oin us at the Barbados Graeme Hall Nature Sanctuary's 35 acre oasis, and explore our beautifully landscaped visitor facilities, on the last significant mangrove and sedge swamp on the island. It is part of the Graeme Hall Swamp National Environmental Heritage Site, as well as a true community centre offering activities for everyone. It is also one of the last wildlife habitats in Barbados.
On your tour of the Graeme Hall Nature Sanctuary you can enjoy watching the wildlife and Migratory Birds, or visiting the Gully Habitat, Marshland and Amazon Aviaries, while touring our beautiful and carefully designed Boardwalk and trail system.
The Sanctuary believes in good educational programming, which is why the network of Boardwalks and Trails, contains both onsite interpretive displays and a self-guided tour numbering system. There are also comprehensive and interactive information offered to visitors, to enable a solid understanding of the ecosystem, plants and animals, and history of the region. At the Sanctuary we do what we can to provide formal and informal education programmes for visitors, students and teachers.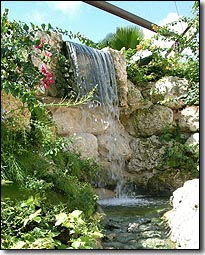 PLEASE NOTE (until further notice)
The Sanctuary is now closed to the general public
There are no tours of the facility, and all Interpretive walkways, Aviaries and Exhibits remain closed to the public.

The SANCTUARY CAFE and Lakeside Lawn is Open to the public
The beautiful and tranquil Sanctuary Cafe and Lakeside Lawn of the Sanctuary are now open to the public on a limited basis.
The Lakeside Lawn and deck area is open to the public for events, socializing and having drinks, while enjoying the view of the lake. This is a wonderful place to unwind from the hustle and bustle of the city.
The Sanctuary Café serves tea, coffee, soft drinks and snacks.
Call ahead to make the Cafe and Lawn are open, as sometimes they are closed for private events and functions.
Opening Hours:
MON to FRI: 7:30am – 5pm
SAT: 8am - 4:30pm
SUN: 9am - 4:30pm
The facility is 100% accessible to physically challenged individuals who need wheelchair access.


Special Event Facilities Available special occasions.
The Sanctuary facilities are now avaible for special occasions

For more information call (246) 435 9727 or go to - http://www.graemehall.com/