Barbados Rum Shops
---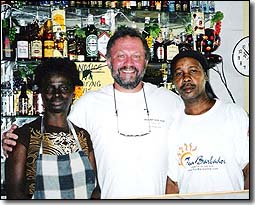 The Barbados RUM SHOP is an integral part of bajan history and culture surviving over 300 years. There are over 1500 rum shops dotted all over the island with at least one in every village and that is still evident today. The rum shop is where people from every social and ethnic background go to socialise and discuss everything under the sun, whether it's sports (especially cricket), politics and current affairs, problems at work or home, or just to take a break from the stresses of life.
Traditional Bajan Rum Shops can be considered tiny bars which are attached to the owners' house and are made in the same way as original bajan chattel houses but usually with three doors at the front. However in recent years some of these rum shops have converted to wall. What has remained the same are the rum shops being decorated by the sponsors, whether by poster ads or painting the exterior of the shop somewhat like cars in motor racing, making them easy to recognise.
On the inside of the rum shop there is usually a counter for drinking, back shelves for displaying liquor and a glass cabinet on the counter for displaying snacks, local pastries and local delicacies prepared by the proprietor or a local bakery.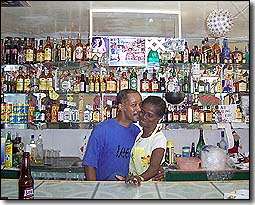 As the name suggest, rum shops mainly sell rum and other alcoholic beverages, as well as local food whether stewed, baked, fried or barbecued, (e.g. rice & stew, cou-cou & flying fish, pudding & souse, fish cakes and cutters just to mention a few). However rum shops vary in what they sell depending on the needs of the village. Some stock only liquor while others carry some liquor, as well as snacks, cutters and basic fried delicacies. Others are grocers during the day providing some of the basic foodstuff, canned foods, toiletries and any other needs the community may have, but become a rum shop at night, providing liquor and catering to the hunger needs of the patrons. Evenings after work and especially weekends are the best times to visit the rum shop if you want to mingle with the locals.
The difference between a bar and a traditional rum shop is price. Liquor and food are cheaper in the rum shop. Rum is usually bought by the bottle, with a container of ice and a bottle of water or chaser of choice, or drunk 'straight' if bought by shots.
Most rum shops can be loud with lots of abusive language, but conversations conducted in rum shops tend to be quite intelligent and informative, so you can learn quite a lot about Barbados' history and what's happening on the island from just listening.
If you want to experience real Bajan culture, with some of the friendliest people, visit a rum shop and 'fire one' with the locals. Indulge in tasty, homemade cooking, participate in karaoke, enjoy a game of dominoes, cards or draught, or just take in the bajan dialect.
The Bajan Rum Shop is an institution of the Village Life
...and a Celebration of Barbados' Heritage & Culture!
Things you should know about Rum in Barbados:
Rum was invented in Barbados.
Barbados has the finest rum in the world.
Rum in Barbados is made from Sugar Cane Molasses or Sugar Cane Juice.
Prior to 1926 Barbados rum was Pot Distilled after which Stills were used.
Three Rum Distilleries in Barbados: Mount Gay / West Indies Rum Distillery / Foursquare
Things to know when visiting a Rum Shop in Barbados:
The local alcoholic beverages of choice are 'Mount Gay Rum'/ 'Banks Beer' / 'ESA Fields Rum' / Cockspur Rum
Rum sizes by bottle are: 'mini' / small / 'flask' / medium / 'pint & half' - large
'Chaser' is the choice of drink used after a 'straight shot' of rum or to mix with it. (Usually water or coke)
To "fire one" means to have a drink.
Local pastries are turn-overs, jam-puffs, rock cakes, lead-pipes, coconut bread, pone
'Cutters' are salt bread (rolls) with meats, cheese or eggs in them. (Somewhat like a sandwich)
Salt bread are like buns or rolls but a bit tougher
Rum comes white or brown in colour
Rum is used to celebrate every occasion in Barbados
All foods are eaten with local pepper sauce (if you can handle the heat)
Fish cakes are made with salt fish (cod fish)
There are no fancy trimmings with drinks like umbrellas, cherries or anything of the sort.
Pudding & souse is made from every part of the pig, from snout to feet. (a bit hot with red peppers but very tasty)
The Barbados Association of Rum Shops (BARS) focuses on the development of the culture and heritage of Traditional Rum Shops.
To find out how Rum is made visit Mount Gay Rum Tour & Visitors Centre, for a truly Barbadian Experience and get a taste of the good times at the home of the world's oldest rum.