t Surf Barbados we offer total surf vacation packages complete with surf lessons, accommodations, surf board rentals and car rentals.
Barbados being one of the Caribbean's most beautiful surf destinations offers a variety of great surf spots for all levels of surfing. There is no better way to enjoy a Surf Vacation than to be taken to the best Surf spots.
Top local surfer Barry Banfield has put together the perfect vacation package for anyone ready for the ultimate surf vacation. Barry has been surfing for over 17 years and teaching for over 6 years. He has represented Barbados competitively worldwide and has a true passion for teaching.
"Local Surfing knowledge is key to getting the most out of your Surf Vacation!"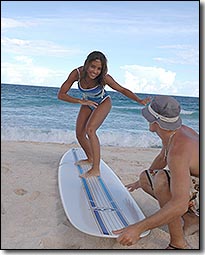 Surf Safari / Surfing Tour
Don't waste time in an unfamiliar place when you can go on a guided Surfing Tour that takes you where the waves are best depending on the Surf. Discover surfing in Barbados on our guided surf tour.
Surfing Lessons
These lessons are mobile to ensure you get the BEST WAVES, wherever that may be. The waves are soft and gently sloping making surfing easy for beginners. Learn in a very relaxed environment (island style). Get out of your hotel and have fun! After all that's why you're in Barbados!
| | | |
| --- | --- | --- |
| We offer | 3 day - 6 hr course | This would put you on the fast track to intermediate level |
| | 1 day - 2 hr lesson | learn the basics |
Classes:
Monday to Friday
9:30AM until 11:30AM
3:00PM until 5:00PM
Saturday
9:30AM until 11:30AM
Note: Max 4 persons per instructor
Surfers Dream Accommodation - South Coast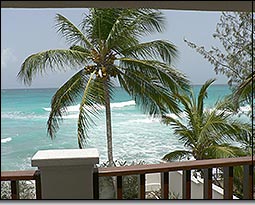 APARTMENT

2 full bedrooms which sleep 4 people(2 couples)
1 bathroom
Fully equipped kitchen
Living room and big veranda over looking the break
Soul Surfer Accommodation - East Coast
BEACH HOUSE

2 full bedrooms which sleep 4 people (2 couples)
a loft which can sleep another 2 people
1 ½ bathrooms
Fully equipped kitchen
Living room and big veranda overlooking Soup Bowl
Surf Board Rentals
Surfboard rentals are the best way to avoid the hassle of traveling with surf boards. As we all know your boards can get seriously damaged or just miss the flight .To avoid this you can rent surfboards from Surf Barbados .We will deliver the boards to where you are staying and also pick them up .There is a daily or weekly fee. Book your boards in advance to avoid the rush. Surf Barbados making your surf vacation truly a vacation.
Car Rentals - More Info
Book your car rental early at Surf Barbados! We offer cheap car rentals with a wide range of vehicles for your every need. We Have cars, jeeps, vans, SUVS and luxury vehicles waiting for you!
Email us for Car Rental Rates!
Please Note:

A deposit of 25% of the total can be used to reserve a space.
Cancellations must be made at least 21 days in advance in order to receive a full refund on your activity.
Enjoy the Journey!
Payment can be made with cash, credit cards and travelers checks.