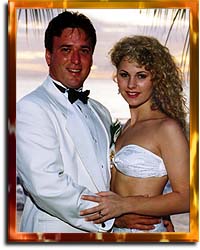 WEDDINGS IN PARADISE PACKAGE

2002

For the special couple, we offer a wedding package to suit your needs. The bride and groom-to-be can choose the basic package and add on whatever optional extras they feel will make their special day themost memorable of their lives. The staff at Bougainvillea Beach Resort and Sand Acres Hotel will plan and organize every detail to ensure your day is magnificent. The wedding takes places in the gardens of the hotel, with the beautiful ocean in the background and includes:-

(All prices quoted in U.S. dollars, are inclusive of the applicable taxes and are subject to change without notice)

BASIC PACKAGE

Personalized Services of a Wedding Coordinator
Elegantly Decorated Wedding Site including Arch)
Services of a Priest/Reverend /JP
Taxi cost to License Office
Wedding License
Stamp for Wedding Certificate
One Tier Wedding Cake
Bridal Bouquet in tropical Blooms
Button Hole for Groom
Special Wedding Gift from Resort
Romantic Breakfast on Patio the day following the Wedding
Champagne for Toasting
Decorated room with Champagne on Arrival
Discount Coupons at Barbados' finest Jewelry Store
Complimentary Room upgrade subject to availability


TOTAL :

$700.00

OPTIONAL EXTRAS

Sparkling Wine $38.00
Champagne $87.00
One Man Steel Band/music per hour $180.00
Special Three Course Dinner: Set Menu $70.00
Canapés (Choice of four) $17.00 per person
Video ½ hour $350.00


A Photographer can be requested:-

24 photos (5X7) plus negatives of your choice, along with a wedding album - US$325.00
Total shots taken - 48, the couple choose the best ones.
36 photos (5X7) plus negatives of your choice, along with a wedding album - US$375.00
Total shots taken 72 - the couple choose the best ones.
Regarding location, we have a beautiful point, which overlooks the sea. A decorated Arch is provided and we recommend between the hours of 4.00 and 5.00 p.m. as this time of the day is usually cool. Couples, may book all or any of the above and pay for it upon arrival at the hotel. Please note that there will be wedding exception dates, due to Bank Holidays.
Documentation:-
The general requirements are as follows:-
Valid passports or the original or certified copies of the applicants' birth certificates.
If either party was married previously and widowed, a certified copy of the marriage certificate and death certificate in respect of the deceased spouse will be required.
If either party was divorced, an original Decree Absolute, NOT the Decree Nisi. If the Decree Absolute is in a language other than English, it must be accompanied by a certified translation.
A letter or written indication from the Marriage Officer, including the church to which he belongs who has agreed to perform the marriage ceremony.
Application for a marriage license must be made by the bride and groom in person at the office of the :-
Ministry of Home Affairs,
5th Floor, General Post Office Building
Cheapside
Bridgetown
St. Michael
Our wedding Package features a beautiful gift for the couple, Complimentary Continental Breakfast served on the balcony of the newly-weds on the morning after the wedding. Free Sparkling Wine and fresh flowers in their room upon arrival.
Thank you for choosing Bougainvillea Beach Resort & Sand Acres hotel for your Wedding in Paradise!