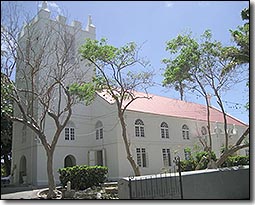 he original
St Lucy Parish Church
was one of the original six parish churches created by Governor Sir William Tufton. It was built of wood in 1629, but due to natural disasters throughout the years had to be rebuilt.
In 1741 it was rebuilt but as a stone structure, after being destroyed by a hurricane.
In 1780 the church was once again destroyed by hurricane, and again in 1831.

The present church of Georgian architecture was built in 1837 from sawn stone, with a tower and a running gallery on three sides. The present church is the fourth building on this site.
Church Service: Sundays from 8am

Seating capacity: 750 persons