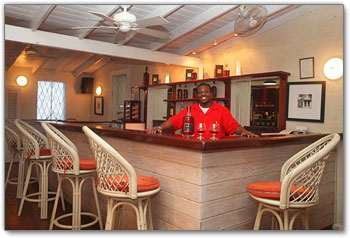 he
MOUNT GAY RUM TOUR & VISITOR CENTRE
...a truly Barbadian Experience! Give yourself a taste of the Good Times at the home of Mount Gay ...the world's oldest rum and an integral part of Barbados' history.
Mount Gay Rum Tours will introduce you to a taste of the island's culture and all the mysteries of rum-making at its best. Learn the secrets involved in the fascinating traditional processes of producing the world's finest rum - refining, ageing, blending & bottling, and the ancient craft of barrel assembly.
Mount Gay Barbados...
Taste the magic
and appreciate the special character of Mount Gay Rum in our cool comfortable bar.
Discover the culture
in the shady verandah restaurant overlooking the ocean, and feast on Bajan Cuisine and sip extra-special rum cocktails.
Enjoy the experience... and don't forget to take home a taste of the good times from the wide range of items in our souvenir shop.
TOUR DURATION: 30 - 45 minutes
Monday to Friday:
Tours every 1/2 Hour from 9:30am - 3:30pm

Saturdays – Tours from 10:30am - 2:30pm / Gift Shop open from 10am - 4pm
(November until April)

MOUNT GAY RUM TOURS OFFERED:
- Tour only
(
Daily
)

- Cocktail Tour
(Adults ONLY) (
Wednesdays
)
Requires advance Booking

- Lunch Tour
(
Tuesdays & Thursdays
)
Requires advance Booking
(
Free Cocktail Shot of the day on all tours
)
For Tour information
Click here...
For Tour Prices
Click here
BOOK Online
in Advance to secure your space
Don't forget to visit the
Mount Gay Souvenir Gift Shop
for your Mount Gay Gear and gift items.
Open:
Monday to Friday from 9am until 5pm
Join us every last Friday of the Month for Mount Gay

"

FRISKY FRIDAYS"
After-work Social Limes from 8pm until...
ADMISSION: BDS $15.00 (Ladies) / $25.00 (Gents)
Email us
for Island Tours inclusive of a visit to the Mount Gay Rum Visitor Centre & Rum Tour.
Taste the magic at
Mount Gay Rum Distillery Tours in Barbados
The rum that invented rum