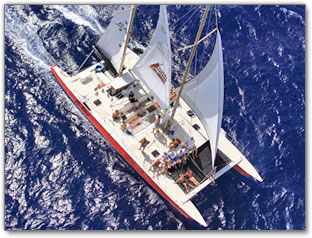 oin us onboard
El Tigre Catamaran Sailing Cruises
, a sleek, swift 60 foot catamaran, for a sail along the calm, crystal clear water of our Gold coast. Choose from either our 5 Hour Lunch Cruise or our 3 Hour Snorkel Cruise. Both tours stop to swim and snorkel with the island's popular sea turtles.
Our exciting 5 Hour Lunch Cruise makes three stops. First swim and snorkel with the sea turtles, then sail to a tranquil bay where a delicious 'Bajan' buffet lunch is served onboard, followed by dessert, coffee and tea. Snorkel again in an underwater marine park and afterwards return to the dock dancing and singing to the wide selection of music.
Special diets can be catered for on request.
On our 3 Hour Snorkel Cruise swim and snorkel with the friendly sea turtles and explore the neighbouring coral reef, home to many tropical fish. Catch the sun's rays and have our crew serve you the drink of your choice or, mix and name your own jungle concoction. Lunch is not provided on this tour.
SUNSET & CHAMPAGNE CRUISE
On this cruise enjoy a purrfectly relaxing sail along the West Coast. At sunset iced champagne, smoked salmon, caviar and various hors-d'oeuvres will be served. Lay back, watch the sun set and admire the island as it lights up and the stars come out. Our champagne cruises stop to snorkel with the friendly sea turtles on Wednesdays.
PRIVATE CHARTERS
For a more personal sailing and snorkeling adventure, let us take you on your own private cruise. You choose the setting, whether it is a Lunch, Sunset or Snorkeling Cruise. You decide when to sail, where to stop for a swim ? or let us do the deciding for you.
If you are staying on the West coast have our 'Cat' pick you up on the beach in front of your hotel or guesthouse. (Special conditions apply)
Specially themed cruises are available. Come, celebrate that special day with friends and family onboard El Tigre.
Ideal for Birthdays, Wedding parties, Anniversaries and any other special occasion.
GRENADINE SAILING TRIPS
El Tigre, new to Barbados' shores, was built by the late legendary Peter Spronk, a pioneer catamaran designer and builder. She was built specifically for charter use and maximum speed. On her first voyage she reached 24 knots. Sixty (60) ft. in length, with lapstrake hulls and a schooner rig; El Tigre has 5 double berths allowing her to sleep up to 10 persons. With ample storage space, a fully equip kitchen and two 'Spronk unblockable' toilets, she is perfectly able to accommodate Grenadine Sailing trips.
INCLUDED IN OUR GROUP CHARTER PRICES ARE:
· Drinks
· Snorkeling and safety gear
· Transportation, from anywhere on the South Coast or West Coast.
Come and experience the most satisfying day of your vacation!
Itinery subject to change due to weather and sea conditions.