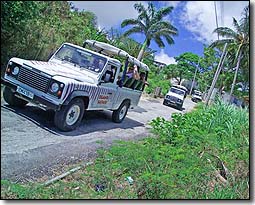 oin
Island Safari Barbados
for a day of adventure, discovery and fun! Indulge in an experience of a lifetime with one of our Sightseeing expeditions, while sitting comfortably in one of our Safari rigged Land Rover Jeeps.
Embrace the nature, history and culture of Barbados as we take you to all the hidden spots and the out of the way stops only accessible by our 4x4 Land Rovers.
Our entertaining and informative guides will unleash the total experience of a Barbados Island Tour through the gullies, forest, remote bays and coastal views, or maybe an exciting Sea Safari.
So, book a Barbados tour with us and behold the journey that awaits you. We will give you the best tour - on land, off road, at sea and even underwater- we promise you an experience of pure adventure, exploration and fun!!

Adventure Safari - The island's most popular tour
This expedition will lead you to the eastern and northeastern side of the island where you will have a chance to see & stop at some of the most magnificent locations. You will experience the best Barbados has to offer on this one!
Discovery Safari - Half the Fun (minimum of 10 persons)
On this journey you will trek to some of the hidden bays and beaches, see other incredible scenery not seen by many.
Land and Sea Safari - The Best of Both Worlds
This is the perfect opportunity to see Barbados both by Land and Sea.
Rum Shop Safari - A Real Local Experience
Barbados is synonymous around the world with great tasting rum! In a celebration of this and the rum shop culture which is so integral to life here, our rum shop safari will take you on a day of adventure. (Must be 18 yrs or older to participate).
BARBADOS SAFARI JEEP TOURS