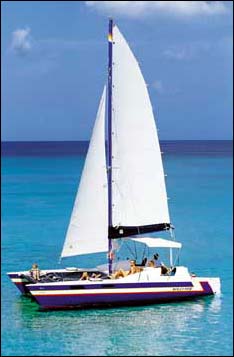 ome and share this wondrous experience with
Supercats Catamaran Sailing Cruises
in Barbados. We sail along the coast, to feed and swim with the tame sea turtles.
Then we sail to a reef where we explore the vast underwater world, to feed these tame tropical fish.
TIME: 10 am to 1pm OR 3pm to 6pm
LUNCH CRUISE - 5 HOURS
This cruise includes all of the above, as well as making an extra stop at a tranquil beach where we have a sumptuous local buffet lunch.
ALL CRUISES INCLUDE SNORKEL INSTRUCTION, TRANSPORTATION & FREE DRINKS.
Turtle Cruise -
Lunch Cruise -
Private Charters Small Boat
Private Charters Big Boat
We cater for couples/families and small groups.
Small Boat Private Charters Maximum 12 persons
Big Boat Private Charters Maximum 36 persons