ith
SWEET BARBADOS ISLAND TOURS
you will experience "a slice of the sweet life", we show you the island's lovely sights, places of interest and gorgeous views, like no one else can.
On a Sweet Barbados Island Tour you will be taken to enchanting and mysterious caves, shown the past through scenic historic tours, and given the opportunity to dive amongst sunken shipwrecks on underwater expeditions …and that is just to name a few.
Sweet Barbados Island Tours is a family owned and operated Tour Company, which was created after many years in the industry, and numerous discussions with visitors on what they really want and expect from a Tour Operator.

The professional and friendly staff at Sweet Barbados Island Tours will ensure you see exciting places while making you feel like part of the family.

Our knowledgeable Guides will take you on a wide range of specialized tours, with packages designed for any interest or budget.

Sweet Barbados Services include:
- Scenic / Sightseeing Island Tours
- Transfers / Transportation (Weddings, Business, etc…)
- Port Transfers
- Airport Meet & Greet
- Private Charters / Customised Tours


…Let us Show you a Slice of the Sweet Life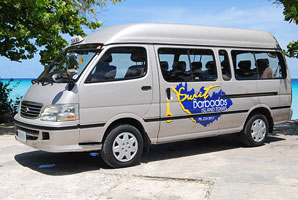 Sweet Barbados Tours offered:
Sweet Barbados Island Tour... A Visitor's Favourite
Join us for comprehensive look around our island with breathtaking photo opportunities along the way. Let us show you the sites like no one can.
East Coast Tour
Come see the rugged East Coast with our knowledgeable and entertaining guides. On route we will show you the countryside, pointing out many facts about the island with a number of stops.

West Coast Tour
Here you will see our main city and historic capital, as well as its outlying areas. Then it's off to a tour the splendid and charming west coast where you get to see the location of the first settlers and many more interesting sites and stops along the way.

South Coast Tour
Enjoy our historic Capital Bridgetown and its outskirts, before venturing on to an exciting tour of the south coast, with its many military sites and fun stops.
Rum Tour
On this tour you will learn the whole story and background behind this legendary spirit, as you get to judge and taste rum at a number of Rum Distillery stops.

Sweet & Wild Tour
Get ready for an exciting adventure, as we take you across the countryside to see the spectacular landscapes of the island, with visits and stops at a popular cave and zoo.

Botanical Tour
This scenic drive will take you through the country side where you will see and enjoy the beautiful picturesque scenery of our island, with stops at botanical gardens that will take your breath away.

Historical Tour
This tour takes you all over the island to visit many historic sites and buildings, inclusive of stops to museums, plantation houses, signal stations, cannons, churches and more.
Private / Customised Tours
...Let us Show you the Island like no one else can!
____________________________________________________