Don't let Barbados' small size fool you. We have more than 900 miles of winding roadways and highways. So while it may not be easy to navigate your way around, we have loads of ways to get lost.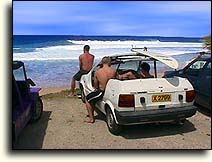 Car rentals are the most popular and you will find the price IS the price-no extra hidden fees. There are more than 60 vehicle rental agencies and many of them offer pick up and delivery, 24 hour emergency service and airport drop-off.
Several car rental companies also offer van rentals for the larger groups or bigger families. The average van holds six to nine people and they are comfortable, relatively roomy and some even have AC.
Bicycles and motorcycle rentals are also available, but be very careful if you decide to 'bike it'. Many bike and motorcycle rentals do not include insurance and if you are not used to biking on narrow, shoulderless roads, you might do better to either rent a vehicle, 'catch bus', or walk.
You need your driver's license to obtain a temporary visitor's permit, which most car rental agencies can issue on the spot. The fee is US $5 and you must have a local license to drive or motorbike here.
Copyright © 1998 - 2013 Funbarbados Inc., All Rights Reserved.
Home - Contact Us