The "

Dinner with George

" Dinner

Theatre Production at 
George Washington House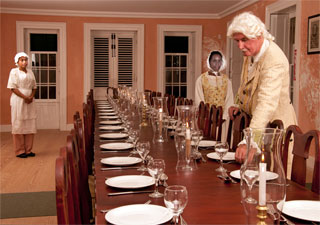 Join us for DINNER with GEORGE WASHINGTON in Barbados
&A unique and prestigious interactive Dining & Theatrical experience!
Step into the past as you enter our grounds and courtyard of flaming torches, then dine with us in an authentic 1751 setting.
Come sit around the dinner table and enjoy a scrumptious 5-course 18th century dinner, accompanied by fine wines and the live sounds of violin and cello. This is the very dining room of the house where 19 year old George Washington spent 6 weeks of his life.
During dinner, you and up to 28 other guest can talk with George at the long dining table, in a candle lit room, attended to by staff in period dress with beautiful music in the background.

PLEASE NOTE:
In keeping with the authentic experience, the meal served at this production is the same food George Washington would have eaten while he was in Barbados.

Wine, rum and local juices are also included and are served throughout the evening.
Champagne is available for an additional cost. 
COST: US $135.00 per person (Limited seating - maximum of 29 guest)

Dinner with George 2019 Theatrical Production
Available Seasonal 
DINNER WITH GEORGE 2019 SEASON: January 28th until April 8th 2019 (Mondays: 7pm 10pm)

ONLINE SPECIAL: Book in Advance Online and Save!
PAY - US $130.00 per person (Includes Free Roundtrip Transfers)

AVAILABLE 2019 DATES:(Mondays Only):
- January 28th
- February 11th
- February 25th
- March 11th
- March 25th
- April 8th

BOOK HERE!!! (Advance Reservations Required) 

Wheelchair Accessible/Friendly
 
NOTE: George Washington is played by famous historian Dr. Karl Watson 
Dinner with George Barbados
 Food, Wine & Theatre...
in the very house that George Washington lived in for 6 weekes in 1751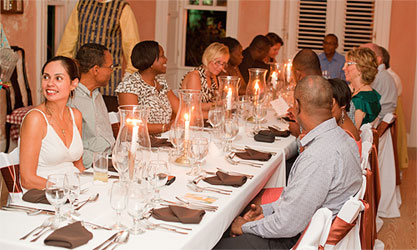 Come enjoy a PRIVATE, intimate unique dinner theatre experience.
Some have stated that the Dinner with George is a world class dinner theatre production.

Last winter the Dinner with George received very credible reviews and labelled Barbados newest and most exciting dinner theatre experience.

Advance Reservations Required!
Limited space available
B O O K  H E R E  E A R L Y!
for Dinner with George at the George Washington House
Available Seasonal: from January until April (every Monday: 7pm 10pm)


...Find out more about the George Washington House & Museum