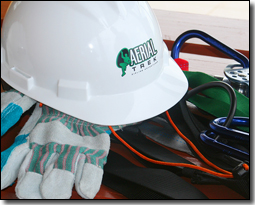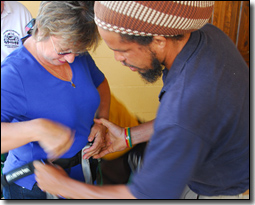 In operation from 2007 with a "no-injuries" track record, Arial Trek continuously strive to maintain its safety record and a level of environmental sustainability. Some of our sustainable measures include recycling, instituting a no littering policy, reducing the usage of chemical products, adding to the fauna variety by planting fruit trees and flowers, and finally maintaining our environments natural appearance when can be seen in our car park and walking trails.
Safety:
We perform daily, weekly, monthly and annual inspections
Annual inspections are conducted by the Association of Challenge Course Technologists (ACCT)
Corresponding logs are maintained of all inspections.
The course and gear is inspected daily before visitors are permitted to run the course.
All guides are trained in course and gear inspection,
All guides have extensive and ongoing training consisting of climbing systems, zip-line operation, rescue techniques and rope work safety.
The minimum training requirement for all new guides consists of 80 hours of classroom theory and site performance. Guides who have not completed the minimum training requirement are not allowed to work with clients except under supervision.
Once this training requirement is met, guides are assessed annually to ensure the safety standards are maintained.

Platform Construction: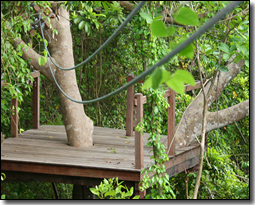 All platforms are made from hardwoods such as purple heart or greenheart primarily, using specifications by professional engineers working closely with certified challenge course technologists. Platforms are designed with low maintenance requirements. The decking also consists of the same hardwood providing resistance to ?wear and tear?. Cable systems consist of two independently anchored cables of ½?, 6-25 galvanized wire ropes with a minimum breaking strength of 11.5 tons. All cable, connections and hardware meet manufacturer?s specifications, as well as those of the Association of Challenge Course Technologists (ACCT) inspectors. These are changed every 20,000 transits or when significant wear occurs.
(The trees within which the platforms have been built were selected from the most durable trees available).
Equipment: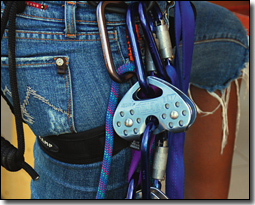 Equipment used on the course by both guides and visitors, meet international safety standards for intended use, such as CE mark, ISO standards or UIAA standards. Life support equipment have a minimum breaking strength of 5,000lbs. The equipment used can be divided into two categories, software and hardware. Software includes equipment such as the harnesses, and safety slings connected to the harness while hardware refers to the double lines of steel cables on which traveling is done from platform to platform, the pulleys, the helmets and the rappelling equipment. The life of the equipment can be impacted by the use and treatment by users and therefore recommended maintenance must be adhered to. The life of equipment can be compromised under the following circumstances:
being shock loaded
coming in contact with soaps or chemicals
inappropriate storage
involvement in a fall
The correct procedure to prevent against mistreatment of equipment is comprehensively covered in the training course. Such procedures include among others:
regular washing/disinfecting of helmets to remove sweat residue and prevent guest to guest contamination
visual inspection of gear to identify wear
appropriate climate controlled storage when gear is not in use to prevent mildew and odour build up