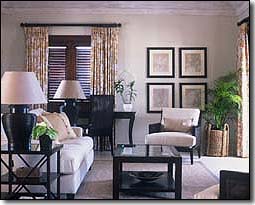 The Sandpiper's 2005 Re-development
Two fabulous new "Tree Top Suites" have been built and individually they have been named "Sanderling" and "Whimbrel" - both a Sandpiper type of wading bird. These two very special suites have been designed by top British interior designer Helen Green and are the epitome of modern hotel luxury. Each suite has its own private sundeck with plunge pool, a large wrap-around terrace with covered dining for up to six people, a spacious living area, bedroom with either a four poster bed or twin beds, plus a dressing room and magnificent bathroom. Each bathroom has a free standing bath and a shower in a walk in wet room lit by recessed lights in limestone tiles.

The Reception Building at The Sandpiper has been completely renovated and upgraded and the entrance has been enhanced by opening up the views and enlarging the lounge area. Rich mahogany doors contrast with coral coloured walls and stone floors. A privately commissioned handcrafted wooden frieze filters the view from reception through to the gardens. A coral stone wall with a water feature and interesting glass work by a Barbadian artist allows more privacy on the pool deck. On the upper floor of the reception building, the television room with flat screen TV, new guest computer room and late departure accommodation have also been rebuilt. The vast majority of the property has be re-landscaped using the same talented landscape architect and team that created the beautiful gardens at Coral Reef Club.
The addition of the Tree Top Suites and the renovations described above have brought added prestige and demand to the already much sought after Sandpiper Hotel.