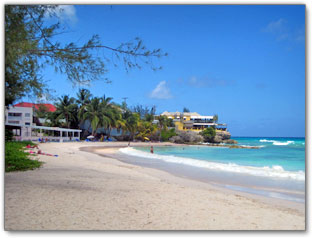 he gorgeous
Accra Beach / Rockley Beach
is a very popular hang-out for locals and tourist on the south coast of Barbados. It attracts all ages, while offering activities and services to accommodate almost everyone.
This lovely beach has small to moderate waves, clear waters, not too much undertow and is ideal for Body Surfing, Boogie Boarding and snorkeling. The many facilities at Accra include a Play-park, beach bars, umbrella & chair rentals and a food court. It is also an excellent spot for shopping for beach accessories and art & craft souvenirs, as well as providing Hair Braiding services.
Snorkeling is best at the southern end of the beach while other watersports are provided near the northern end.
All facilities and amenities are located in one area near the entrance and parking area. Close by, there are lots of varied accommodations, restaurants and shopping.
Rockley Beach / Accra Beach is located on the Caribbean side of the island, on the
South Coast
of Barbados in the parish of Christ Church.
CAUTION
- DO NOT TOUCH the Manchineel Tree or its Fruits. (POISONOUS - Causes BLISTERS)
- DO NOT STAND UNDER the Manchineel Tree when it's raining. (liquid from tree may cause BLISTERING)
(The tree has green shiny leaves - The fruit is small apple–shaped – The tree is usually marked by red bands)
- Where there are water-sport activities persons should be cautious when entering outside the area marked with orange coloured buoys
Public Access to beach:

Vehicular and pedestrian access with signage

Crowd during the week
:
Usually small to medium – medium on evenings with local joggers, walkers and paddle ball players.

Crowd on weekends
:
Large but not overcrowded
Other South Coast Beaches close by

Located to the northwest are
Kentucky Beach
and
Hasting's Rocks Beach
.
To the Southeast are
Rendezvous Beach
and
Worthing Beach / Sandy Beach
More South Coast Beaches in Barbados...
Rent-a-car
or
scooter
to enjoy the other
activities
and
Nightlife
on the island! Or maybe see Barbados through a
guided island tour
.
Note: Seasonal weather can cause a change in conditions
________________________________________________________

BEACH ACTIVITIES & WATERSPORTS:
Snorkeling / Swimming / Surfing / Boogie boarding / Body Surfing / Volleyball (net available) / Jet Skiing / Beach Paddle Tennis / Walking / Jogging / Sun Tanning & more...
Watersports in Barbados
(For watersports activities inquire at the Lifeguard Station or with the beach Ranger or Beach rentals operator)
___________________________________________________


AMENITIES
| | | | | | | |
| --- | --- | --- | --- | --- | --- | --- |
| Lifeguard | Facilities | Beach Rentals | Vendors | Benches | Play Park | Parking |
| Yes | Yes | Yes | Yes | Yes | Yes | Yes |
Facilities usually includes: Showers / Toilets / Changing areas


| | | | | | |
| --- | --- | --- | --- | --- | --- |
| Wheelchair Access | Phone Booth | Rangers | Picnic Tables | Hair Braiding | Shaded Areas |
| Yes | Yes | Yes | Yes | Yes | Yes |
____________________________________________________


OTHER INTERESTS Nearby:
Duty-free & Souvenir Shopping, Bars, Restaurants & Accommodations
Close to Accra Beach / Rockley Beach on the South Coast

Places to Stay & Eat Close by

ACCOMMODATIONS
AREA
BEACHFRONT
Distance
From Beach
Direction
From Beach
RESTAURANTS
AREA
BEACHFRONT
Distance
From Beach
Direction
From Beach
Accra Beach Hotel

Rockley

Yes

on Beach

North-end

Wytukai

Rockley

on Beach

North-end

Blue Horizon Apt Hotel

Rockley

Beach View

Opposite

South

Bar Kanei

Rockley

Yes

on Beach

South-end

Blue Orchid Beach Hotel

Worthing

Yes

South

Chefette

Rockley

Beach View

Opposite

Pirate's Inn Hotel

Hastings

North

Bert's

Rockley

North

Quayside Centre

Rockley

North

Bubba's

Rockley

South

Champers

Rockley

Yes

North

Black Pearl

Hastings

Yes

North

Tapas

Hastings

Yes

North

Apsara

Worthing

South

Places to Hang Out Close by
BARS

TYPE

BEACHFRONT

AREA

Distance




From Beach

Direction




From Beach

Accra/Rockley Beach

Beach Bar

Yes

Rockley

on Beach

North-end

Bar Kanei

Beach Bar

Yes

Rockley

on Beach

South-end

Bert's Bar

Sports Bar

Rockley

South

Bubba's

Sports Bar

Rockley

North

Champers

Wine Bar

Yes

Rockley

South

Black Pearl

Beachside

Yes

Hastings

North

Tapas

Wine/Beachside

Yes

Hastings

North

TO GET THERE!
Travel Highway 7 (South Coast Road) towards Rockley
The beach is located on Highway 7 opposite Chefette Restaurant

BY BUS:
Take
Route 13 – To Silver Sands, Christ Church - From Fairchild Street Terminal in Bridgetown (Schedule - Every 50mins from 6:15am)

Route 13B – To St Christopher, Christ Church – From Fairchild Street Terminal in Bridgetown - (Schedule - Every 50mins from 6:30am)

Route 27 – To Speightstown Bus Terminal, St Peter - From Oistins Bus Terminal, Christ Church - (Schedule - Every 90mins from 5:30am)

NOTE:These Routes travel the South Coast in both directions


Get off
At the Bus Stop in front of Chefette Restaurant, Rockley, Christ Church (travelling in either direction)

Chefette is on your left travelling from Bridgetown or the west coast (north to south), and on your right travelling to Bridgetown, or from the Airport (south to north)
The beach is directly opposite Chefette Restaurant and the bus stop is directly by beach