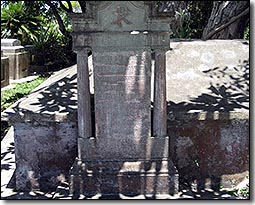 ome believe the most intriguing feature of the St John's Parish Church is probably found outside in the graveyard where the tomb of Ferdinando Paleologus rests. Paleologus was a descendent of the brother of the great Emperor Constantine XI, the last of the Byzantine Imperial family from the 1400?s that produced the last Christian emperors of Greece. He fled to Barbados after the Battle of Naseby in England where his family was driven from the throne of Constantinople by the Turks. He was a church warden of St. John?s Parish and later died there in the 1670?s.
When Paleologus died, he was naturally buried in the St John's Parish Church, since he had been a prominent person in that community. He left behind a legacy of mystery which until 1844 was buried at St John's.
It was said that he was buried 'backways'. The rumours persisted until nearly 200 years later in 1844 when a curious church official ordered the vault opened.
Paleologus lead coffin was found to have been in a different position to all the others. As the lid was opened, his skeleton was found lodged in quicklime. He had been buried according to Greek orthodox traditions, which amongst other things, demanded that the dead person's head should point to the west and their feet to the east.