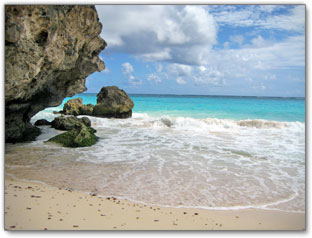 he
Beachy Head Bay
is yet another secluded beach on the southeastern coastline of Barbados.
At Beachy Head Bay you will experience small to medium rolling waves with lots of undertow, close to shore, becoming more unstable with strong under-currents and rough sea conditions, further out to sea.
This stunning bay has a feel of tranquility and peacefulness to it, with crystal clear waters, white/pinkish sand and surrounded by cliffs and swaying trees.
Beachy Head Beach is a charming hideaway and romantic spot, featuring a cave and massive rock formations, partly separating it from the adjoining Ginger Bay.
Beachy Head Beach can be found on Atlantic Ocean side of the island, on the
Southeast Coast
of Barbados in the parish of St Philip.
CAUTION! Not well-suited for swimming
(some sea-bathing close to shore)
Public Access to beach
Pedestrian access
(access to beach requires travelling down a flight of stairs)
(access also available from Crane beach and Ginger Bay)

Crowd during the week:
Empty

Crowd on weekends:
Empty


Other Southeast Coast Beaches close by

To the north is
Shark's Hole Beach
and
Long Bay
To the south is
Ginger Bay
and
Crane Beach
More Southeast Coast Beaches in Barbados...
Hire a Car and visit some of the other attractions and Nightlife around the island, or discover the rest of Barbados on a guided island tour.


Note: Seasonal weather can cause a change in conditions
_____________________________________________________________

BEACH ACTIVITIES & WATERSPORTS:
Body surfing / Boogie boarding / Walking / Sun Tanning
Watersports in Barbados

AMENITIES
| | | | | | | |
| --- | --- | --- | --- | --- | --- | --- |
| Lifeguard | Facilities | Beach Rentals | Vendors | Benches | Play Park | Parking |
| N/A | N/A | N/A | N/A | N/A | N/A | Yes |
Facilities usually includes: Showers / Toilets / Changing areas


| | | | | | |
| --- | --- | --- | --- | --- | --- |
| Wheelchair Access | Phone Booth | Rangers | Picnic Tables | Hair Braiding | Shaded Areas |
| N/A | N/A | N/A | N/A | N/A | Yes |