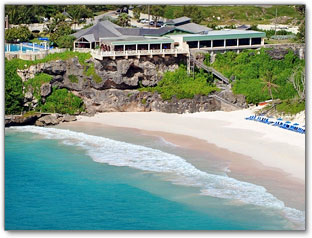 he famous
Crane Beach
is one the most gorgeous beaches in Barbados and in the Caribbean, fronting one of the more luxurious and oldest hotels on the island.
Rated as one of the
top 10 beaches in the world by Lifestyles of the Rich & Famous
, Crane Beach boast a powder soft white/pinkish sandy beach, with crystal clear azure waters and a backdrop of jagged cliffs and wavering palm trees.
When visiting the secluded Crane Beach you will experience medium to large waves, but with mix sea conditions. Close to shore on the left, tends to be safer for swimming, while to the right the waves are bigger with lots of undertow, and is better for body surfing or boogie boarding. Further out to sea gradually gains intensity with rough seas, large waves and strong under-currents, making it good for surfing.
Perched oceanfront on the cliff-top in the background is
The Crane Hotel Resort & Residences
, a luxury property offering accommodations, restaurants, bars and other pampering services. This property also provides a perfect photo opportunity with its magnificent cliff-top view of the bay and the crashing waves along the rugged coastline.
In the early days this bay was used by the British as a harbour to load and off-load ships. The ships were unloaded to the cliff-top by a "crane" which was situated where the Crane Resort is presently located. This is also how the area got its name.
Crane Beach can be found on the Atlantic Ocean side of the island, on the
Southeast Coast
of Barbados in the parish of St Philip.
CAUTION! Not well-suited for swimming
(some swimming close to shore)
Public Access to beach
Vehicular and pedestrian access with signage
(
requires going down a series of steps/stepping stones to reach the beach
)

Crowd during the week
:
Usually small to medium (activity from hotel guest, body surfers, boogie boarders and surfers)

Crowd on weekends
:
Medium to large (with locals, hotel guest, body surfers, boogie boarders and surfers)


Other Southeast Coast Beaches close by

To the north is
Ginger Bay
To the south is
Foul Bay
More Southeast Coast Beaches in Barbados...
Hire a Car and visit some of the other attractions and Nightlife around the island, or explore the rest of Barbados on a guided island tour.


Note: Seasonal weather can cause a change in conditions
_____________________________________________________________

BEACH ACTIVITIES & WATERSPORTS:
Body surfing / Boogie boarding / Surfing / Fishing / Walking / Jogging / Shelling (collecting shells) / Sun Tanning
Watersports in Barbados

AMENITIES
| | | | | | | |
| --- | --- | --- | --- | --- | --- | --- |
| Lifeguard | Facilities | Beach Rentals | Vendors | Benches | Play Park | Parking |
| N/A | At Hotel | At Hotel | N/A | N/A | N/A | Yes |
Facilities usually includes: Showers / Toilets / Changing areas


| | | | | | |
| --- | --- | --- | --- | --- | --- |
| Wheelchair Access | Phone Booth | Rangers | Picnic Tables | Hair Braiding | Shaded Areas |
| N/A | N/A | N/A | N/A | N/A | N/A |
____________________________________________________