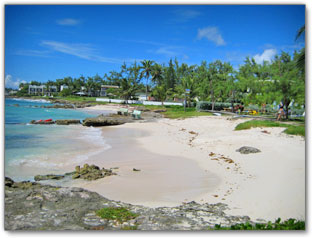 t
Surfer's Point Beach
in Barbados you will witness a piece of paradise in the unspolt beauty of this popular south coast surfing spot.
This beach here is made up of a number of tiny bays and is also known locally as
Inch Marlow Beach
and
Kayakers Point
.
The sea conditions at Surfer's Point vary with each bay, featuring from calm waters to choppy waters. There are also some natural rock pools for kids to enjoy.
This entire area has a rustic tropical feel to it, and offers the perfect atmosphere for enjoying the ocean view and gorgeous sunsets this beach is known for. These waters also have the occasional sea turtle sighting.
Surfer's Point beach attracts many types of surfers, ranging from board surfers to kite surfers, as well as a number of kayakers. There's also some beach activity from fishermen.
On the beachfront there is
Surfer's Point Surf Shop & Zeds Surfing Adventures & Surf School
providing surf lessons, surf tours and surfboard rentals.
For food and drinks there is the
Surfer's Point Bar & Grill
, and for those looking for surfing holidays there is the
Surfer's Point Beachfront Apartments & Guest House
.
Surfer's Point Beach/Inch Marlow Beach can be found on the Atlantic Ocean side of the island, on the
South Coast
of Barbados in the parish of Christ Church.
Public Access to beach:
Vehicular & Pedestrian access

Crowd during the week
:
small (activity from surfers)

Crowd on weekends
:
Medium (activity from surfers)


Other South Coast Beaches close by
Located to the northeast is
Long Beach
To the southwest is
Silver Sands Beach
More South Coast Beaches in Barbados...
Useful Links
Things to do & see in Barbados
Nightlife in Barbados
Barbados Car Rentals
Barbados Island Tours
Note: Seasonal weather can cause a change in conditions
________________________________________________________

BEACH ACTIVITIES & WATERSPORTS:
Swimming / Wind surfing / Kite surfing / Surfing / Kayaking / Fishing / Diving / Sun Tanning
Watersports in Barbados

AMENITIES
| | | | | | | |
| --- | --- | --- | --- | --- | --- | --- |
| Lifeguard | Facilities | Beach Rentals | Vendors | Benches | Play Park | Parking |
| N/A | shower | N/A | N/A | Yes | N/A | Yes |
Facilities usually includes: Showers / Toilets / Changing areas


| | | | | | |
| --- | --- | --- | --- | --- | --- |
| Wheelchair Access | Phone Booth | Rangers | Picnic Tables | Hair Braiding | Shaded Areas |
| Yes | N/A | N/A | N/A | N/A | Yes |
____________________________________________________