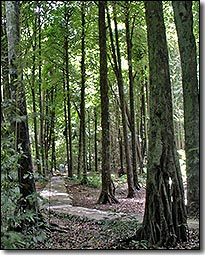 f you love nature, hiking, plants, culture and natural history, then
WELCHMAN HALL GULLY
in Barbados must not be missed.
The tranquil feel of the gully will instantly strike you. It is a place where you can experience a piece of nature and imagine what the island was like 300 years ago. It is a touch of tropical forest, mixed with Barbadian and other exotic tropical plants. It is also a great place for children to explore their natural environment.
Since Barbados does not have many remaining tropical landscapes that are easily accessible,
visiting Welchman Hall Gully
will be an unexpected surprise and treat. In fact, Welchman Hall Gully was formed by the collapsed roofs of caves and is still evident. Fascinatingly, the gully is also geologically connected to Harrison's Cave. Before Harrison's Cave was developed, locals would enter via an entrance located in the gully.
If you come early, you might even get a glimpse of the Barbados Green Monkeys. Gullies are the homes of these monkeys.
WELCHMAN HALL GULLY TOURS - Click here for Rates
Hikes are self-guided taking approx. 30 to 45 minutes, depending on your level of interest in the flora. The gully is ¾ of a mile long.

Include visits to:
An orchard
A large nutmeg grove
Exotic and native palms section
An ornamental section
A native section of the gully.
OPEN Daily:
9 am to 5 pm - Last tour at 4:30 pm.
Closed on: December 25th / January 1st / first Monday in August

Wheelchair Friendly

CAMPS available at Welchman Hall Gully
Summer Camps Click here!
Easter Camps Email us

WEDDINGS at Welchman Hall
This lush tropical landscape is the perfect location for a romantic wedding ceremony and a unique reception. Its cooling breeze and fantastic view will provide that surreal setting for your special day. Email us for more information
NOTE:
Guidebooks are available on sale for a small fee. (Highlights over 50 plants and features in the gully)
There is also a carefully designed trail system with (11) descriptive signs throughout the gully.
Trained guides can be provided at a cost. (Must be booked 24 hours in advance)
Group Rates are available Email us
Tour packages are available Email us

More Barbados National Trust Properties, Activities & Events....