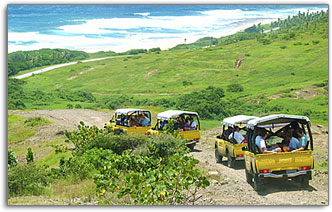 ome join
Adventureland 4x4 Jeep Tours
in Barbados as we take you on the ultimate in Jeep adventures & 4x4 Off-Road Island Tours, and the most enjoyable day of your holiday.
Explore and absorb the magical splendor of our tropical island called paradise. We promise to take you to the heart and soul of Barbados and its people, while showing you why it is known to be the "Gem of the Caribbean Sea".
Adventureland Barbados offer Tours which will allow you to discover the unrivaled beauty of this enchanting island, with an adventure designed for comfort. Tours will take you 'off-road' across the hills and bridges, through gullies and grasslands, or the ultimate snorkeling adventure, taking you to the endangered Hawksbill turtles and the shallow shipwrecks of Carlisle Bay.
In Barbados, Adventureland Tours are a great way to get-a-way from the traditional tourist circuit and explore some of the island's "hidden secrets". It is also a perfect outing for friends and family as well as a great place to meet new people.
On your Jeep adventure you will experience a blend of romance, style, beauty and laughter with a feeling of freedom and spiritedness in this Adventureland off-road island tour!
So don't miss this opportunity to have the most enjoyable day of your holiday in Barbados…
Barbados Jeep Tours
The Best 4x4 Tour By Far!!!
ADVENTURLAND TOURS:
The Congaline Jeep Adventure (This Tour has been Discontinued)

PLEASE NOTE:
Adventureland has now merged with Island Safari and will be replacing the Congaline Tour with the Adventure Safari.

View Island Safari 4x4 Jeep Tours - Options...


BOOK TODAY!!!
___________________________________________________________

Charter/Rent
Four By Four Land Rover
Wildcat Speed Boat
EMAIL US!

Requirements:
Wear enclosed comfortable shoes (e.g. training shoes, sneakers, etc…)
Bring a Towel

Safety:
Safety is priority for us and our drivers have been driving for a minimum of 15 years. Our Land Rovers are specially equipped with Bob Cat seats and seat belts. They have been custom designed for your protection with padded roll bars and all vehicles contain medical safety kits.