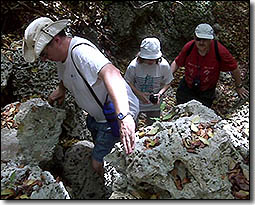 ome join the
ARBIB NATURE & HERITAGE TRAILS
in Barbados, the ultimate in Eco Adventures, as we take you on a guided fun-filled Hike through the lovely countryside.
On Arbib Nature tours you will experience some of the gorgeous views of the island?s rolling hills and cane fields, as well as the dark and mysterious Whim Gully with its famous 'Bearded' Fig trees. You will also learn about the Dog Dumpling tree, whales, schooners, a working sugar plantation and some of the island?s rare flora & fauna.
Our Nature & Heritage Trails are considered invigorating for both the young and old with simple fun, lots of discovery and adventure.
The Arbib Nature Trail is Barbados' first fully interactive guided trail and is overseen and maintained by the Barbados National Trust.

More info...
---
Arbib Nature Tours & Heritage Trails:

TOURS OFFERED:
Whim Adventure - 3 1/2 Hrs (for the fit and adventurous)
Round-de-Town Stroll - 2 Hrs (less challenging)

Hikes: Wednesday, Thursday & Saturdays from 9am - 2pm

Price:
Adults: US$25.00 per person (Tour minimum (4) persons or US $100.00)
Group Rates: US $20.00 person (Tour minimum (10) persons)
Local/Barbadian rate available

Note:
Advance Bookings prefered
Not recommended for children under 5 years of age.
---
Other Activities Offered: (Eco Adventures)
Outdoor recreational activities for children & adults
Moonlight Hike & Camp-out
Eco Adventures at Sea
Overseas Hiking Adventures
Cave Exploration
Scenic Bus Tours with narration on island's history, unique geology, indigenous animals
Barbados Museum guided tours
Garrison Historic Area walks
Customised Day hikes/walks with interpretations of area's history, culture, flora, fauna & more

More Barbados National Trust Properties, Activities & Events....