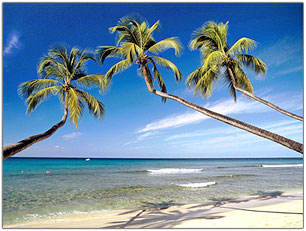 ome let
Facilitators Unlimited Tours
help you discover the beauty of Barbados through our is
land tours, which offer a variety of sights and breath-taking viewswith a wide range of specialised packages, especially designed to suit your interest.


At Facilitators Unlimited Tours we can make your holiday dreams come true, by offering diverse packages inclusive of …enchanting and mysterious caves …underwater exploits amid sunken shipwrecks ...parasailing above the sparkling Caribbean waters …or enjoying a relaxing sail along the coastline …and swimming with a playful turtles.


Wayne Parravicino …the man behind this
family owned and operated tour
company,
has
over 35 years experience in the tourism industry, which when combined with his passion for service excellence has made it

what it is today.


Facilitators Unlimited Inc. is one of the leading tour operators on the island,

c

atering to all of your ground transportation needs, while providing a personalized and efficient service, along with a reliable and friendly staff.

...To us you are more than a Visitor ...you are our Guest

Transportation Services & Packages offered:
- Island Tours & Excursions
- Port Transfers
- Taxi service (for any number of passengers)
- Airport Meet & Greet
- Multi-lingual Tour Guides & Reps
- Weddings
- Special/Corporate Events
- Private Charters & Customised Tours
- Passenger Exchange
We Don't just offer Tours! ...We create Experiences
TOURS available:

Fit it in: 2Hrs

Bajan Highlights: 3 ½ Hrs

Beautiful Barbados & Sunbury Plantation: 3 ½ Hrs

Budget/Sightseeing Tour: 3 ½ Hrs

Blast from the Past: 3 ½ Hrs

Coastal Tour: 3 ½ Hrs/4Hrs

Best of Barbados & Heritage Rum Distillery: 4Hrs

Local Creations: 4Hrs

Island Wonders Too: 4Hrs

'Just Chillin': 4Hrs

The Journey of Rum: 4Hrs

Beach & Shopping: 4Hrs

Flavour of Barbados: 4Hrs

Island Wonders: 4 ½ Hrs

Island Wanders: 4 ½ Hrs

Guns of Barbados: 5Hrs

Beauty of Barbados (Full Day with Lunch): 6 ½ Hrs

Bus-A-Lime (Party Bus): Per Hour

The Harley Ride: On Request

For Tour Descriptions Click here!
For Rates Click here!

NOTE:
- Children under 12 years of age receive 25% Discount
- Non-English speaking guides cost an additional $2.50 per person for 30 persons and more
(French, Spanish, German, Italian, Japanese)