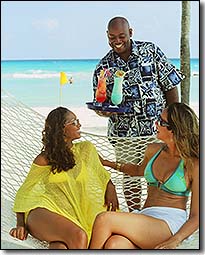 he
Water's Edge Beach Bar & Restaurant
is truly a tropical oasis with a pool-bar gazebo which offers casual lunch or snacks from our grill menu and a full range of exotic cocktails day or night. This is ideal for poolside loungers, beach goers and any hotel guest looking to unwind outdoors.
The bar is located at Hilton Barbados on the edge of the pool deck, right next to the sandy white beach on the south side of the hotel. This is a perfect spot to spend your time ?hanging out?.
The bar serves cocktails from 10:00AM and food from 11:00AM.
There's a 'Happy Hour' daily starting at 5:00PM TO 6:00 PM with great deals on selected drinks.
The Water's Edge Beach Bar is one of the several dining options the Hilton Barbados has to offer.
Dress Code ? Casual with no restrictions.
Check-out one of Hilton Barbados' other dining options by clicking on logos above.