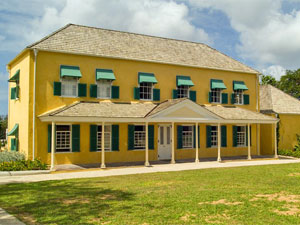 he
GEORGE WASHINGTON HOUSE
in Barbados is a beautifully restored 18th Century Plantation House where George Washington and his brother Lawrence slept in 1751.
For two months a 19 year old George Washington and his ailing brother stayed at what was then a private residence. This visit was not known to many, but it was an important chapter in the life of who would go on to be the first President of the United States of America and a great military and political leader.
His visit to Barbados was his first and only visit outside of North America.
At George Washington House there's also a museum showcasing 18th & 19th century Barbados as well as artifacts and recreations of yesteryear. The house sits in beautifully landscaped grounds with a gift shop and a refreshing cafe
The property was rented by George and his brother Lawrence before it was acquired by the British Government to establish a garrison. It was the British Military Regimental Resident Engineer's Quarters and later became Bush Hill House the Commanding Officers Quarters. After the withdrawal of the British forces in 1905, it returned to private ownership until it was restored in 2000 as a heritage attraction by the Government.

The house and surrounding buildings have now been added to the UNESCO World Heritage List as the Historic Garrison Area.


Take a Tour of the famous George Washington House and see where young George spent 6 weeks of life.
George Washington House Tours in Barbados

OPEN:
Monday to Friday: 9am – 4:30pm
ADMISSION:
Adults: BDS$20.00/ US$10.00
Children: BDS$5.00/ US$2.50 (
5–12 years
) (
under 5 years Free
)
(NO Advance Bookings Required)
GEORGE WASHINGTON HOUSE &
GARRISON TUNNELS TOURS ADMISSION:

Adults – BDS $30.00 / US $15.00
Children – BDS $15.00 / US $7.50 (
5 – 12 years
)
Click here to find out more about the Garrison Tunnels...
BOOK HERE!!!
(Advance Bookings Required)
_____________________________
Check Out
THE COFFEE CAFE AT GEORGE WASHINGTON HOUSE
Open:
MON - FRI: 7:30am - 4pm / SAT: 9am - 4pm
The Coffee Barbados Café located in the old 1830's stable building, is one of the finest on the island, serving breakfast, lunch, cake, pastry, tea, coffee and more!
The Café is freely accessible to all (whether visiting the House or not) and has a wonderful view of the gardens
Breakfast from 8am – 11amLunch from 12noon – 3pm
______________________________________________

Don't miss our Seasonal Dinner Theatre Production...
The George Washington House Dinner Theatre Production "DINNER WITH GEORGE"
...more information
Click Here to BOOK DINNER THEATRE!!!

ABOUT GEORGE WASHINGTON HOUSE
The George Washington House was opened on January 13th 2007 and is managed by the Bush Hill Tourism Trust Inc., a non-profit charitable organisation whose Governing Board is made up of Directors from the Barbados National Trust and the Barbados Tourism Investment Inc.
Concentrated research and documentation of the site started in 1999. The major structural restoration of the main house and kitchen began in June 2004. The Bush Hill Tourism Trust Inc. has been working with advisors from the Colonial Williamsburg Foundation of Virginia, the University of Florida's Preservation Institute: Caribbean, the Society of the Cincinnati and local architects, historians and archaeologists.