Fishing Trips, Tours & Boat Charters | Fishing Calendar & Events
Deep Sea Fishing & Big Game Fishing in Barbados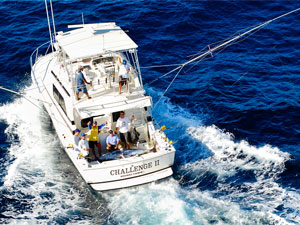 When BIG GAME FISHING and DEEP SEA FISHING in Barbados, you get to enjoy your offshore Sport Fishing Charters, and Fishing Trips in tranquil tropical Caribbean weather conditions, while enjoying one of the most popular sports and recreational water activities in the world.
If you are looking for fun Fishing Vacations on one of the top Fishing Destinations in the Caribbean, then a Barbados Fishing Holiday is the ideal choice for you.
Imagine cruising around Barbados on a Fishing Charter with a fishing rod in hand, feeling the sun's rays and the breeze of the open ocean on your body, looking out onto the deep blue sea ... waiting for that first strike. You look back at the island with its white, sandy beaches and the lovely buildings...away from it all. You grab your drink, sit back and relax and wait...
But you don't have to wait too long. The line cries as something grabs hold of the bait. You leap up and for the next twenty minutes, with reel in hand, it's you against fish... You pull but the fish is pulling just as hard. But you slowly reel it in, closer and closer to the boat until finally it's in the boat. And as you look down at your prize you feel proud.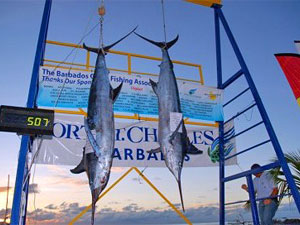 Back at the port, you stand by your prize, whether it is a twenty pound Barracuda or a Marlin or even a Sailfish...

This can be you on a Caribbean island, with friends or family, enjoying an entire day of the best fishing while on vacation in Barbados.
Big Game Fishing & Deep Sea Fishing in Barbados
…Top Sport Fishing Destination for Caribbean Fishing Vacations
Create the Best Deep Sea Game Fishing Holidays in Barbados

QUICK LINKS
Other Useful Links
Barbados Game Fishing Tournaments:
Junior Fishing Tournaments
Kingfish Fishing Tournament
Offshore Fishing Tournaments
Click here for Barbados International Fishing Tournaments…
See full Barbados Fishing Tournaments Calendar, Dates & Details…
Other fish related fun Events:
Oistins Fish Festival…
Oistins Fish Fry...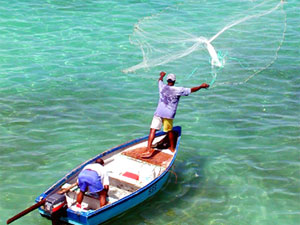 ABOUT FISHING IN BARBADOS (FISHERY)
Like most countries around the world, the techniques used for catching fish in Barbados, also include netting, spearing, trapping and angling. The most popular fish caught and consumed by bajans for cooking, is Flying Fish and Dolphin (Dorado).
Barbados Fishing Season – October to July (main months: Dec to May)
These months are when pelagic fish frequent the waters of the Eastern Caribbean. During the summer months fishermen are limited to reef fishing, as this is when big game fish tend to migrate.
Best months for fishing in Barbados: February to April

The most popular fishing grounds in Barbados for sport fishing are located off the west and south coast, with inshore fishing done within less than a nautical mile from shore. During August and September, the fishing grounds off the east coast becomes active with spear fishing, pot and reef fishing, as this is when the rough waters along this coast tends to be a bit calmer.
OTHER FISHING INFORMATION you should know
Barbados Exclusive Economic Zone (EEZ area) - 186,107 km²
Shelf area - 407 km²
Inshore Fishing area - 320 km²
…more statistical information for Barbados
Main Species of Fish found or caught in Barbados waters:
White & Blue Marlin - (usually September & October)
Yellow & Black fin Tuna - (usually Dec – Mar during winter)
Dorado (aka Dolphinfish or Maui-Maui) - (mostly all year-round)
Sailfish - (mostly all year-round)
Wahoo - (mostly all year-round)
Barracuda - (mostly all year-round)
Shark - (mostly all year-round)
Red Snapper - (usually Jul – October)
Flying Fish - (season usually November to July)
Fisheries & Methods Overview…
Shallow Shelf Reef Fishes
…like Parrotfish, Grunt & Surgeonfish
Vessel used - Mainly small, open outboard-powered boats (moses)
Landing sites - Rough seas limit reef fishing activity along the east coast at most times.
Fishing is most intense during July to October when pelagics are scarce, but reef fishes are captured year round at some sites. These species are mainly fished using traps of various shapes. The traps are often baited with macerated fish or black sea urchins (Diadema antillarum) and hauled every 2 to 3 days. Reef fishes are also taken by hand lines fished at various depths down to about 50m. These species are important to part-time fishers year-round and full-time fishers upon conclusion of flyingfish season.

Deep Slope and Bank Reef Fishes
…like Snappers & Groupers
Vessel used – Day-boats
Landing sites - Done around the island with large catches often landed at the Oistins fish market

Mainly fished by hand-lines which target queen snapper and vermilion snapper. Traps target silk snapper and some vermilion snapper. Most of the catch is taken from July to October when the availability of large pelagics declines. Each vessel may have a crew of several fishers each tending a line. These species are most significant during the period when pelagics are scarce.
Coastal Pelagics
…like Jacks (from the Carangidiae family) & Barracudas
Vessel used - Moses and Day-boats
Landing sites - Takes place mainly on the south and west coasts
Used as bait and food, and caught by seine fishing and cast nets, as well as trolling along reef edges. Sometimes fishing along reefs can cause high by-catches of juvenile reef fish which are discarded.

Large pelagic
…Dolphinfish (Dorado), Tuna & Billfish
Vessel used – Longliners and Ice-boats
Landing sites – Mainly at the Bridgetown Fishing Complex, sometimes at Oistins with small quantities at secondary landing sites on the south and west coasts. Fish for trans-shipment are off-loaded at the Bridgetown Port.
Fishing methods include trolling and lurk-lining. With range being proportional to size, local boats fish within national waters and on the high seas amongst international fleets. Longliners target tunas and swordfish, with by-catches mainly of billfishes (blue marlin, white marlin, sailfish) and shark. This fishery is very important to recreation and tourism through local game fishing tournaments and the small charter boat industry. Most large pelagics, but mainly dolphin and wahoo, are usually harvested on the same dayboat and iceboat fishing trips, often together with flying fish. These species are mainly caught by skilled fishers.

Flying Fish
…mainly the four-winged flying fish (Hirundichthys affinis)
Vessel used - Dayboats and Iceboats (approx. 410 boats)
Landing sites - Landed at all sites except those on the east coast. Flyingfish are generally landed early in the afternoon by the dayboat fleet. Ice boats, which can stay out on fishing grounds for up to two weeks, tend to land their catch early on mornings. Of the 31 landing sites on the island, the two largest primary sites (Bridgetown and Oistins) account for over 60% of the total flying fish landed.

Flying fish account for over 50% of total landings, and are caught with surface gillnets, hand lines and dipnets after being lured near boats with tethered fish attracting devices (screelers) and chum. Bait baskets are also used to attract these fish. A fishery for large pelagics (which prey on flyingfish) is carried out in conjunction with the dayboat and iceboat flying fish fishery. The fishing season extends from November to July, with a major peak in May and a minor peak in November/December.

Sea Urchins the Sea Egg (Tripneustes ventricosus)
Vessel used - When vessels are used, the launch is common, but the moses is also used. The occasional ice-boat is observed. Alternatively, fishers who swim out to the sea urchin ground will often carry a floating log from which bags of harvested urchins will be suspended until returning to shore.

Landing sites - Sea eggs occur all around Barbados. However, the main landing sites are located on the east and south-east coasts. (Oistins/ Silver Sands/ Conset Bay/ Crane/ Foul Bay/ Long Bay/ Martin's Bay/ Sam Lord's/ Skeete's Bay/ Tent Bay/ Bath/Stroud Bay on the north-west coast is also used)

Sea urchins are harvested close to shore by skin divers using mask, snorkel and fins. The sea urchins are removed from the bottom by hand or metal scraper and are collected in a net bag. Sea urchins are harvested close to shore by skin divers using mask, snorkel and fins. The sea urchins are removed from the bottom by hand or metal scraper and are collected in a net bag. Revenue from the sea urchin fishery is an important part of some fishermen's income. Based on estimated catch rates (approx. 6 million urchins in the open season alone), an urchin fisherman can earn more than $600 BDS per week if fishing daily. There are about 220 fishermen in this fishery. In addition, other people crack, clean and sell sea eggs. In recent times, because of a drastic decline in the Sea Egg population, restrictions have been implemented, which allows harvesting only during the months September to December.

Lobster
Vessel used - Boats may or may not be used to transport, and support divers using scuba. Animals caught in traps are usually landed by moses, and occasionally dayboats. (approx. 20 divers)

Landing sites - Along all coasts, but often taken directly to hotels, and usually do not appear in public fish markets unless caught by trap.
Free or Scuba diving using spears or gloves for capture along the east coast. By-catch in fish traps occasionally on the south coast.

Conch
…mainly the Queen Conch (Strombus gigas)
Vessel used – Moses and Day-boats (if transportation by a vessel is required)
Landing sites – All around Barbados. However, most are harvested from locations along the east and southeast coasts. (Oistins, Silver Sands, Conset Bay, Crane, Foul Bay, Long Bay, Martin's Bay, Sam Lords, Skeete's Bay, Tent Bay and Bath. Stroud Bay and Maycocks Bay on the northwest coast)

There is a very small fishery for conch in Barbados, conchs are now mainly harvested for their shells, which are polished and sold as curios mainly to tourists. The meat is usually consumed by the harvester or sold privately and not openly at markets. They are harvested by skin divers using mask, snorkel and fins and by scuba divers. The conchs are collected by hand. Although some divers target conchs, most are taken opportunistically. Both established souvenir retail stores and itinerant salesmen are involved in the sale of conch shells.

GOVERNMENT AGENCIES
For more on Commercial Fishing in Barbados contact the following agencies:

Barbados Marine Fisheries Division - Ministry Agriculture & Rural Development
http://www.agriculture.gov.bb/
The protection of Marine Environment: Ministry of Physical Development & the Environment
For more information on
Big Game Deep Sea Sport Fishing in Barbados
Check out Barbados Game Fishing Association