reetings from
Jah Works Nature Tours
in Barbados!

Come join us for a real Barbados Horse Riding adventure & Holiday, as you discover the Scotland District, which is considered the most beautiful part of this wonderful island. The complimenting tantalising view of the Atlantic Ocean's pounding surf makes it a truly wonderful experience and one that?s not to be missed.

At Jah Works Nature Tours & Riding Holidays in Barbados, horseback riding tours, nature walks, refreshing beach horse rides or even picnics are adventurous, informative and fun. As you explore the mountains, cart roads, forest & countryside with their towering Mahogany and Coconut trees you can take in the breathtaking views and sights of the rugged east and north coasts of Barbados.

While on the trails you can sample delicious fruits from the local fruit Orchard, take pictures of the historic Morgan Lewis Sugar Mill, the swinging Green Monkeys, and the many duck ponds with their beautiful Lilies.

History & Profile
Jah Works is owned and managed by Roli Roachford and her husband and has been in operation since 1999. Starting out at her family''s Riding Centre where she trained both horses and students, Roli was able to gain a wealth of knowledge as her mother introduced Dressage to Barbados.

Roli has over 20 years experience in teaching horseback riding and is a Certified Caribbean Coach. She has represented Barbados since the 1980's on numerous occasions in both International Dressage and Show Jumping, competing up to Prix ST Georges Level Dressage and FEI Advance Level Dressage and scoring the highest in the region in 2005. Roli has also taught and coached a number of riders for competition as well as training horses up to Grand Prix Movement. She is also a short listed rider who had the privilege to train for international coaches like Lena Wedenmark, Jenny Lariston ans Clarck, Steven Moore and Steven Clarck to name a few.

In 2009 Roli Roachford was elected the President of the Barbados Equestrian Association for Riders with Disability (BEARD), an association dedicated to the Special Needs community of Barbados. She is also the Head Therapist & Coach for BEARD.

Lessons / Therapy / Animal Rescue / Camping
Jah Works Stud & Riding Stables in Barbados is a division of Jah Works Nature Tours and a member of the Barbados Equestrian Association (BEA) offering lessons in Dressage & Show Jumping to beginners and experienced riders alike, as well as providing a Large-Animal Rescue Retreat Program and Special Therapy for Differently Able persons. At Jah Works we make learning Fun!

English riding is done here, with hard hats provided by us for trail rides. Selective sizes in Boots & Chaps are also available.

WE OFFER:
Nature Ride Tours

Tour 1 - Countryside Riding Tour: 1 Hour
Tour 2 - Beach & Countryside Riding Tour: 1 ½ Hours
Tour 3 - Beach & Countryside Riding Tour: 2 - 2½ Hours

Nature Walk Tours (seasonal: Nov to Jul)
Horse Riding Camps -
Dressage & Show Jumping Lessons -
Differently -able Special Therapy (Free) -
Large Animal Rescue
Click here for more information on all the services offered
There is also a Food Bar available for you to have a drink or lunch while enjoy the view.

COMING SOON!
- Riding Holidays / Vacations
- Craft Shop

Our Holidays will offer cosy, comfortable accommodations in a relaxing environment, complimented by a fantastic view, all at great rates.
BOOK NOW and have a great time on a nature tour & holiday with us.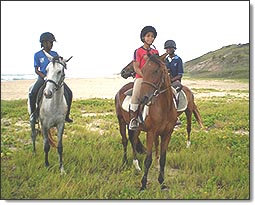 NOTE:
Our funds go to aid our Differently-abled Children with free therapy on horse back.
All tours are guided and include refreshments.
Tours are paced according to rider's skill.
Rides Requirements:
Weight limit: 220lbs (approx)
Long pants & enclosed shoes are recommended
No brand name clothing recommended (horses and dirt go hand in hand)
Groups of (2) Persons minimum / (4) Persons maximum
Persons must be (4) years & over to participate on Tours
Persons must be (4) years & up to participate in Lessons