About Barbados: History: Emblems
National Anthem | Coat of Arms | National Flag | National Flower | National Pledge | Constitution | History
The Barbados National Pledge
---
The Barbados National Pledge

I pledge allegiance to my country Barbados and to my flag,
To uphold and defend their honour,
And by my living, to do credit to my nation,
Wherever I go.


The Lyrics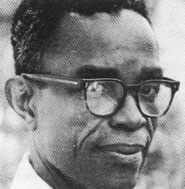 Lester Vaughan
1910 - 2003
Author of the
Pledge of Allegiance
of Barbados

The Barbados National Pledge was written by Mr. Lester Vaughan, born in 1910 at Simons in St. Andrew. He was a former Teacher and Education Officer of Primary Schools. His career started between 1928 and 1944 as a Pupil Teacher. Mr. Vaughan was trained at the Rawle Training Institute, forerunner of Erdiston College 1933-1935. Â 
On April 2nd 1973 the National Pledge was chosen from a competition of 167 entrants and was announced by the Hon. Erskine Sandiford then Minister of Education, Youth Affairs, Community Development and Sports. Â Â Â Â Â Â Â Â Â Â Â Â Â Â Â Â Â Â Â Â Â Â Â Â Â Â Â Â Â Â Â Â Â Â Â Â Â Â Â Â Â Â Â Â Â Â Â Â Â Â Â Â Â Â Â Â Â Â Â Â Â Â Â Â Â Â Â Â Â Â Â Â Â Â Â Â Â Â Â Â Â Â Â Â Â Â Â Â Â Â Â Â Â 
Lester Vaughn taught at a few Primary Schools in St Andrew, and then migrated to St Lucia in 1944 continuing his teaching career until 1954. During this time he then took a course in Primary education at the Tuskegee Institute of Alabama in the US, after which he returned to St Lucia.

In 1954 Vaughn returned to Barbados and taught at the St John the Baptist Boys School. He later became Headmaster at Holy Innocent and subsequently acted as an Education Officer for six years.

After retiring in November of 1970, he was called back for the 14 plus scheme, a project designed to assist children who left school as early as 14 years of age. Â Â Â Â Â Â Â Â Â 

Lester Vaughan later died at the age of 92 on 16th September 2003.