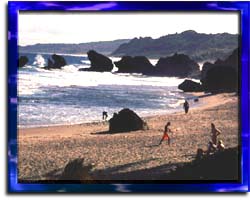 hen visiting
BATHSHEBA BEACH
in Barbados, you will be mesmerized by its astounding beauty and picture perfect views. Here you will experience clear waters, lots of undertow and large rolling waves suitable for surfing, complimented by the cooling breezes off the Atlantic Ocean.
This stretch of sandy beach with its rugged coastline of large rock formations, is not only beautiful but one of the most breathtaking areas on the east coast. It is also one of the most photographed and painted landscapes on the island and is often used on postcards.
Inland, the beach is back-dropped by the overwhelming presence of natural vegetation and the many hills of coconut trees and Chattel houses.

Surfing at Bathsheba Beach

For years Bajans and visiting surfers alike have been shredding up the surf at the spot known as "
The Soup Bowl
" in Bathsheba. This picturesque little fishing village becomes a hive of activity several times a year, when the surf contests come to town. Such a surfing competition is the renowned 'International Pro Surfing Classic', which is known for its big and powerful waves blown in by our ever-present trade winds. Check out our
events calendar
for
Surfing activities
in Barbados.
SURFING THE SOUP BOWL in Barbados
The Soup Bowl surf spot at Bathsheba can have powerful surf conditions and sometimes very big waves that attract many pros from all over the world. It is a right point surf break with a reef break and a coral bottom featuring approx. 100m length rides and waves sometimes over 30ft. The Soup Bowl is considered the best Surf Spot on the island.
For Soup Bowl LIVE HD Camera & Surf Report click here!

Bathsheba offers something to everyone, even if you don't surf. There are naturally formed pools in the reefs, which make for enjoyable wading, and the fresh, cool breeze is enough to caress you into a snooze while sun tanning on the beach.

This area is also great for picnics and family outings, especially with the children's play area and the many facilities.

A number of Beachfront Accommodations, Bars, Restaurants and Rum shops are in the area, ready to serve you with the utmost hospitality.

The Legend of Bathsheba
It is said that this area was named after the wife of King David whose name was "Bathsheba". Legend has it that she bathed in milk to keep her skin beautiful and soft, and the rolling surf waters of Bathsheba's "Soup Bowl" resembled Bathsheba's bath.

Train Line
Some evidence is present in this area of the old train line which ran through there during 1881-1937. (Ask for information at the Bathsheba community centre)

Bathsheba Beach is located on the East Coast of Barbados in the parish of St John.

Swimming not recommended for this area.


Public Access to beach:
Vehicular and pedestrian with signage.

Crowd during the week:
Usually small – medium on evenings with surfers, walkers and joggers.

Crowd on weekends:
Medium to large but not overcrowded, usually with surfers, spectators and various outings.


Other East Coast Beaches close by
To the south is Tent Bay

To the north is Cattlewash Beach

More East Coast Beaches in Barbados...

Remember to Rent-a-car or scooter and check out the other beaches or take an island tour of the many sights on the east coast.

Note: Seasonal weather can cause a change in conditions
___________________________________________________
BEACH ACTIVITIES & WATERSPORTS:
Surfing / Boogie Boarding / Walking / Jogging / Sun Tanning
Watersports in Barbados

AMENITIES
| | | | | | | |
| --- | --- | --- | --- | --- | --- | --- |
| Lifeguard | Facilities | Beach Rentals | Vendors | Benches | Play Park | Parking |
| N/A | Yes | N/A | Yes | Yes | Yes | Yes |
Facilities usually includes: Showers / Toilets / Changing areas


| | | | | | |
| --- | --- | --- | --- | --- | --- |
| Wheelchair Access | Phone Booth | Rangers | Picnic Tables | Hair Braiding | Shaded Areas |
| N/A | Yes | Yes | Yes | N/A | Yes |
____________________________________________________