Sightseeing: Beaches
Beach list | Amenities by Coast | Things to Know | Beach Picks
BARBADOS EAST COAST BEACHES & BAYS
East Coast Beach list | Accommodations | Restaurants | Shopping | Points of Interest | Directions | Other Interest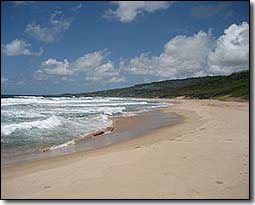 s you visit the East Coast Beaches of Barbados you will be overwhelmed by its natural beauty and breathtaking views.
In Barbados, the East Coast Beaches are known for their magnificent rugged beauty and spectacular seascape and landscape, making them excellent for nature lovers and a photographer's paradise. These miles of un-crowded beaches are located on the Atlantic side of the island and are great for strolling, tanning, picnics and for those looking for some peace and tranquillity. The high waves and choppy waters from the Atlantic Ocean are excellent for Surfing but be cautious of the rocky bottom and unpredictable currents.
Although no swimming is recommended on these beaches there are some 'natural swimming pools', which are formed from the waves breaking over the rocks and reefs, creating these small pools close to the shore to splash in and enjoy. Ask locals from the area for safe areas to swim.
The landscape of the east coast compliments the impressive seascape with its majestic hills and mountains of the Scotland District moulded inland, forming an atmosphere perfect for hosting International Events. These events range from Surfing Competitions such as the prestigious 'International Pro Surfing Classic' at the 'Soup Bowl' located at Bathsheba to Crop Over Events such as the 'Party Monarch' on the East Coast Road.
Barbados' east coast though suited for those who want to get away from it all is still popular for Island Tour visits, Safari Activities and Hikes. It also has some of the most remote and rustic accommodations and restaurants on the island with extremely glorious views of the Atlantic Ocean. This coast has more active sea conditions than the southeast coast.

For your benefit we have provided a list from East to North of Beaches on the east coast of Barbados with public access, as well as Directions, Activities, Amenities and more.
We have also provided a chart of Beach Amenities on the east coast for those who want a quick look at what each beach has to offer.
It's now for you to rent-a-car or scooter and check out these gorgeous beaches on the east coast. Remember sunscreen is very important.
When checking out the beaches take some time out for the lovely sights, activities and tours in Barbados.
The East Coast Beaches & Bays of Barbados are located in the parishes of St Philip, St John, St Joseph and St Andrew.
Click here to view our featured companies!
CONDITIONS - Large to very large waves, with lots of undertow and VERY STRONG CURRENTS! No Swimming Recommended
Note: Seasonal weather can cause a change in conditions
Beach Activities on the east coast of Barbados:
Walking / Surfing / Boogie Boarding / Body Boarding / Sun Tanning
Watersports in Barbados

---
To Get There: Travel Ermy Bourne Highway (East Coast Road)

---
By Bus:
Route 6 - To Bathsheba, St. Joseph - From Fairchild Street Terminal in Bridgetown
(Schedule - Every 70mins from 6am)
(Route 6 travels only through the areas of Bathsheba and Cattlewash)
Route 7 - To Sargeant Street, St John - From Fairchild Street Terminal in Bridgetown
(Schedule - Every 60mins from 5:30am)
(Route 7 travels only through the area of Bath)
Route 6A - To Martin's Bay, St John - From Fairchild Street Terminal in Bridgetown
(Schedule - Every 60mins from 6am)
(Route 6A travels only through the area of Martin's Bay)
Route 9 - To College Savannah, St John - From Fairchild Street Terminal in Bridgetown
(Schedule - Every 60mins from 6am)
(Route 9 travels only through the area of Consett Bay)
Route 4 - To Shorey Village, St Andrew - From Princess Alice Terminal in Bridgetown
(Schedule - Every 60mins from 6:30am)
(Route 4 travels only through the areas of Morgan Lewis and Walkers)
Route 10 - Bayfield, St Philip - From Fairchild Street Terminal in Bridgetown
(Schedule - Every 80mins from 6am)
(Route 10 travels only through the area of Skeete's Bay)
For updated info on bus routes & schedules in this area click here!
Or call (246) 436-6820

---
| | |
| --- | --- |
| EAST COAST BEACHES listed from East to North | Back to Top |
Click on name of Beach for availability of Activities, Directions, Amenities & more.

South East Coast Beaches... - St Philip
Secluded with medium to large waves, strong currents, lots of undertow, some swimming close to shore. Excellent for photos. No swimming recommended.

Ragged Point / East Point - St Philip
Large to very large waves, with lots of undertow and very strong currents! Great for photos and surfing.

Skeete's Bay - St Philip
Large waves, with lots of undertow and strong currents. Great for photos. No swimming recommended.

Consett Bay - St John
Large waves, with lots of undertow and very strong currents. Great for photos. No swimming recommended.

Bath Beach - St John
Large waves, with undertow and strong currents, but some swimming close to shore. Great for photos and picnics and has some beach activity.

Martin's Bay - St John
Large waves, with lots of undertow and strong currents, but some swimming close to shore. Great for photos!

Tent Bay - St Joseph
Large to very large waves, lots of undertow and very strong currents. Great for photos. No swimming recommended.

Bathsheba Beach - St Joseph
Large to very large waves, lots of undertow and very strong currents, with some natural pools close to shore for. Excellent for photos, picnics and surfing, with lots of beach activity.

Cattlewash Beach - St Joseph
Large to very large waves, lots of undertow and very strong currents, but some natural pools close to shore. Excellent for photos, picnics and surfing! No swimming recommended.

Barclays Park Beach - St Andrew
Large to very large waves, lots of undertow and very strong currents. Great photo opportunity! No swimming recommended.

Walker's Beach - St Joseph
Large to very large waves, lots of undertow and very strong currents. Great photo opportunity! No swimming recommended.

Morgan Lewis - St Joseph
Large to very large waves, lots of undertow and very strong currents. Great photo opportunity! No swimming recommended.

Pico Teneriffe - St Joseph / St Peter
Large to very large waves, lots of undertow and very strong currents. Great photo opportunity! No swimming recommended.

Note: Seasonal weather can cause a change in conditions
---
Round House Inn Restaurant & Bar:
Sea U! Guest House:
Edgewater Hotel
Atlantis Hotel
Naniki Restaurant
Round House Inn Restaurant & Bar
Cliffside Restaurant
Atlantis Restaurant
Sand Dunes Restaurant
The Cove Restaurant
---
Featured Companies:
Voyager Rent-a-Car
Jah Works Nature Tours
Featured Interests:
Island Tours
Cruises
Attractions
Scenic Spots
Picnic Spots
Surfing
Scuba Diving
Horse Riding Tours