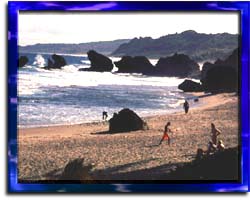 t
Cattlewash Beach
in Barbados you will witness some of the most spectacular natural beauty found anywhere on the island. It also has an amazing ocean view and is one of Barbados' windows to the sea on a major highway.

Situated on the Atlantic Ocean side of the island, the sea here tends to have large rolling waves with choppy, clear waters and lots of undertow.


As one of the longest beaches in Barbados, Cattlewash beach with all its rough and rugged splendour is a very popular sightseeing and relaxing spot. The beach is several miles long, and chances are you won't see many others there. However it is a popular stop with Island Tour operators and visitors touring the island.


Be warned, the waves and undertow currents are very strong, so swimming is not recommended, however there are many natural pools surrounded by rocks to soak in.
This area is a perfect location for picnickers and nature lovers, and is known for its sea grapes, so pack up your cooler and head for Cattlewash.


Interestingly so, this beach was christened "Cattlewash" by the locals, as it was the bathing spot in the olden days for herds of cattle which were shepherded down the hills from neighbouring villages to be washed off in the sea. Today cattle can still be seen in the hilly areas.


This area is also known by Bajans as the "East Coast Road" or "East Coast Road Beach".
The natural beauty of the landscape compliments the breathtaking seascape, with its majestic hills of natural vegetation and Limestone mountains of the

Scotland District

moulded inland, forming an atmosphere perfect for photos.


Located to the northern end is 'Barclays Park', a great place for family outings. This park was donated to the Government of Barbados by Barclays Bank to commemorate the Independence of the country, and was opened by Queen Elizabeth II in 1966.

Cattlewash Beach is located on the East Coast of Barbados in the parish of St Joseph.



Public Access to beach
Vehicular and pedestrian access

Crowd during the week
:
Usually small (becomes a bit busy on evenings with local joggers and walkers)

Crowd on weekends
:
Medium (Large on public holidayds)

Other East Coast Beaches close by
To the south is Bathsheba Beach

To the north is Barclays Park Beach

More East Coast Beaches in Barbados...

Remember to Rent-a-car or scooter and check out the other beaches or take an island tour of the many sights on the east coast.

Note: Seasonal weather can cause a change in conditions
_____________________________________________________________

BEACH ACTIVITIES & WATERSPORTS:
Snorkeling & swimming in natural pools / Surfing / Scuba Diving / Fishing / Walking / Jogging / Sun Tanning
Watersports in Barbados
(inquire at the Lifeguard Station for safest areas to swim)


AMENITIES
| | | | | | | |
| --- | --- | --- | --- | --- | --- | --- |
| Lifeguard | Facilities | Beach Rentals | Vendors | Benches | Play Park | Parking |
| Yes | N/A | N/A | N/A | N/A | N/A | Yes |
Facilities usually includes: Showers / Toilets / Changing areas


| | | | | | |
| --- | --- | --- | --- | --- | --- |
| Wheelchair Access | Phone Booth | Rangers | Picnic Tables | Hair Braiding | Shaded Areas |
| N/A | N/A | N/A | N/A | N/A | Yes |
____________________________________________________