e part of this unforgettable experience in Barbados, as
Horizon Helicopters
take you on a flight-seeing tour filled with adventure and discovery.
PLEASE NOTE: Horizon is closed to business and no longer offer Helicopter Tours!

Click here to find other Air Activities, Aerial Tours & Sky Adventures in Barbados...

Click here for other Tour Operators

At Horizon Helicopters we offer the superlative Helicopter sightseeing tour on the island, with exclusive private luxury tours, while delivering a safe and efficient service. Our pilots are all Barbadians, who are intimately acquainted with the island, and their interesting narrative skills serve to enhance your experience while enjoying the breathtaking scenery.
You can choose to fly over the rugged beauty of the Atlantic East Coast, or the serene grace of the West Coast luxury villas, golf courses and polo fields; either way you will be stunned at the landscape laid out before you!

What makes us stand out?
We operate new aircraft only, luxuriously appointed with leather seating and air conditioning
Each passenger is guaranteed a window seat!
No waiting to fill the aircraft!
Exclusivity! - Although we can accommodate parties of up to 3, we normally book no more than one couple at a time, making your tour experience that extra special - you have your own private helicopter without having to share with strangers!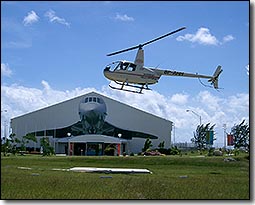 Two Tours for the Price of One!
TOUR INCLUDES: 30-minute Island Tours
Plus!
Every passenger flying with us is entitled to a Discount with the "Barbados Concorde Experience".
With the "Concorde Experience" you can walk into the British Airways Concorde G-BOAE and experience how it felt to fly in this incredible plane.

Open Daily: 9am - 6pm
Click here for Tour Rates!
Click here for Photos!

For those in love you are welcome to try our Romantic Sunset Champagne Tour!
AIRPORT TRANSFER SERVICE
We offer airport transfers to most west coast properties. Horizon Helicopters is an on-demand (Part 135 equivalent) helicopter charter service, specialising in corporate and VIP transfers between the airport and selected sites on the island's prestigious West Coast. Landing Sites
Barbados Concorde Experience - Southeast coast
Sandy Lane Estate - West Coast
Port St. Charles - West Coast
Royal Westmoreland Golf Course - West coast
Kendal Sporting Club - South-east
Bushy Park Racetrack - South-east
Cattlewash - East
Includes:
Meet and greet
Helicopter flight
Standard Carry-On luggage
Ground Transport of checked baggage
(Weight limit of 300lbs per seat)
Other Services
Aerial surveys
On-demand Charter services.
Aerial Filming & Photography
Consulting and Training Services
Wedding Transfers
Our dedicated staff has the training and experience to meet your requirements, and deliver your helicopter solution in a safe and expedient manner.

Horizon Helicopters' pilots are highly experienced, with average flight times of 6,000 hours, and are well versed in all major aspects of helicopter aviation.

Pilots and engineers are all trained at the manufacturer's facility in Los Angeles, and undergo a rigorous program of training and testing every six months in order to maintain their helicopter licenses.
We chose the Robinson R44 Raven II (the largest selling helicopter in the world), due to its reliability, performance and impeccable safety record. Horizon Helicopters' aircraft feature luxury leather interior, air-conditioning, and iPod in-flight entertainment system.

Because of our aircraft?s four-place seating arrangement (including pilot), you are assured of traveling in the utmost of private comfort, rather than having to share seating as you would in larger aircraft.

With safety as our number one priority, you can rest assured that you are in very capable hands!