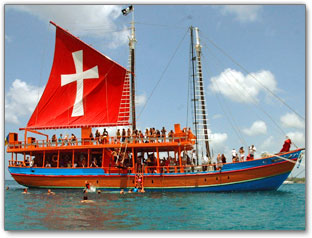 hoy there Matiies! Let
JOLLY ROGER 1 Pirate Ship
in Barbados take you back 300 years with the popular
Black Pearl Party Cruises
. Imagine a time when pirates roamed the Caribbean Seas on this pirate ship with the huge scarlet sail billowing with the skull and crossbones flag.
Ahoy me Hearties!
You are about to Experience the Best Party Cruise on the Island
Aboard the Jolly Roger 1, Black Pearl Party Cruises will mix it up to give you the ultimate Party Time! ...By combining a scenic sailing cruise in crystal clear waters, with tropical sunshine & cooling Caribbean breezes, topped off with pulsating calypso music, cultural entertainment, great food and barrels of the captains 'Pirate Rum Punch' ...you are guaranteed the best time on the high seas.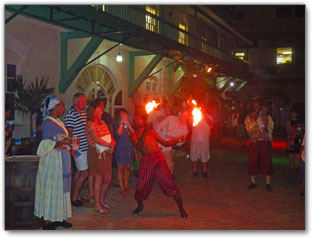 Come Eat... Drink... Party... & be Merry!!!
Join the pirates for a enjoyable time snorkelling and swimming with the sea turtles, or just suntan on the top deck. For the adventurous, you can rope-swing from the boat or be blind-folded and be made to walk the plank

...Snorkel & Swim with the Turtles
...Rope Swing or Walk the Plank!
...Lunch Cruise or Sunset Cruise & DinnerShow!
Just come join us for a Fun Time!!!

JOLLY ROGER Pirate Cruises & Sea Tours offered in Barbados:
"Adventure Cruise" -

4HR SNORKEL & SHIPWRECK LUNCH CRUISE:

11am to 3pm - Rates...
Available (DAILY) more info…


"Taste Of the Caribbean Cruise" -

4HR SUNSET CRUISE & DINNER SHOW:

6:30pm to 10pm – Rates...
Available (Thursdays ONLY) more info… - View Photos...

OTHER TOUR OPTIONS:

Roundtrip transportation is also included to various accommodations & the Bridgetown Cruise Terminal.

BOOK HERE!!!

For seasonal Local and Caricom Rates & Group Specials EMAIL US...

PRIVATE Charters can also be arranged for special events and functions, such as weddings, stag parties, bridal showers, birthday parties and Christmas parties, as well as crop over fetes and events. EMAIL US...

WEDDINGS on the Jolly Roger 1 by Black Pearl Party Cruises
Our Wedding Packages cater to any size wedding, while creating a tropical experience that will last a lifetime, as you exchange your vows on that special day. EMAIL US...

Get married at sea for a day on our Fun Pirate Wedding. (pirate style of course)

The Jolly Roger Tavern Dockside Pirate's Bar & Restaurantis open daily from 7am to 6pm with HAPPY HOUR every Friday from 4pm.

CLICK HERE! To view Photo Gallery

CHECK OUT all Events aboard the Jolly Roger...


For a true tropical Caribbean experience visit PIRATE'S COVE at Daiquiri Beach.


On the Jolly Roger Cruise we do it how you like it ...Day or Night!
Book Today! and be part of what is still regarded around the world as the greatest party on sea imaginable.

NOTE:
All activities including snorkelling, the beach stop and the turtle encounter are subject to sea and weather conditions, and the company reserves the right to change the order of all stops on the excursion.