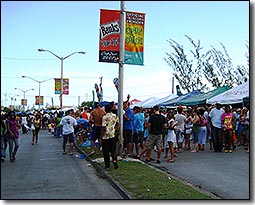 What is Bridgetown Market in Barbados?
In Barbados, Bridgetown Market is the biggest street fair of the Crop Over Festival, usually held on the last weekend of the season. This is a favourite Bajan tradition where for three days the entire Spring Garden Highway is converted into a hype of activities, as the focus is mainly on this sub-festival of the Crop Over Festival.
As a major part of the Crop Over season, the Bridgetown Market street fair attracts many tourists and locals alike, which is why it outgrew it's previous location at Harbour Road (Pelican Craft Centre area, formerly Pelican Village). It features all types of Bajan products including local Art & Craft, Fashion, as well as a variety of indigenous foods & drinks from very colourfully displayed stalls or kiosks.
You can especially enjoy the Steel Pan concerts, competitions and a wide range of local entertainment and music such as; Folk groups, Tuk Bands, the Barbados Landship, Steel Bands, stick licking, stilt walking, dance groups, gospel groups, as well as calypso, reggae & our own spouge music. 
At the Bridgetown Market street fair you are promised an entire weekend of fun & frolic as you sample the local delicacies and the popular bajan rum & beer.
Don't forget in the midst of your enjoyment, to purchase some locally handmade souvenirs, so you can take home a piece of Barbados.
BRIDGETOWN MARKET WEEKEND SCHEDULE: (Kadooment Weekend / Crop Over Last Lap)
(Usually first weekend in August)
Bridgetown Market Dates
This starts in the early hours of Saturday morning when it's nice and cool. Mud & paint covered revellers party through the streets from Bridgetown to Spring Garden Highway.
(Activity on Spring Garden Highway for Foreday Morning Jam – Saturday from 2am until daybreak)
Official Start of Bridgetown Market (1st Day): Saturday - 10am until 9pm
2nd Day: Sunday - 10am until 9pm
3rd Day: Monday - 10am until 9pm (Kadooment Day celebrations end here)
KADOOMENT WEEKEND: (Crop Over Last Lap Weekend)
National Cultural Foundation (NCF) Events
Friday Night - Pic-O-De-Crop Finals
Saturday (Day) - Foreday Morning Jam / Bridgetown Market
Sunday (Day) - Bridgetown Market
Sunday Night - Cohobblopot
Monday (Day) - Grand Kadooment Celebrations / Bridgetown Market
Click Here for all Kadooment weekend events (times, venues, etc)