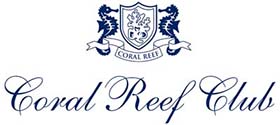 Restaurant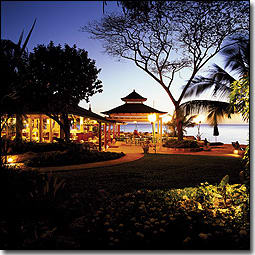 The restaurant overlooks the calm Caribbean Sea in an open terrace of elegant and refined décor. The "A La Carte" dinner menus change daily offering choices of fresh seafood and dishes combining classical French cuisines with the exotic herbs and spices of the Caribbean.
Executive Chef Graham Licorish heads a team of professional chefs some of whom have experience in some of the finest European and Caribbean Restaurants.
For guests on M.A. P. we offer exchange dining with other luxury hotels.
DINNER MENU
APPETIZERS
FEUILLETTES OF LOBSTER AND SCALLOPS
cooked in Champagne Cream Sauce with Shallots, Forest Mushrooms and Chives
CORNISH CRAB SALAD
bound in a Light Lemon Aioli with Diced Cucumbers, Tomatoes and Spring Onions served in a Crisp Parmesan Basket with Avocado Compote and Chili Cilantro Oil.
MIXED SATAY
of Beef, Lamb and Chicken on a Bed of Jasmine Rice with Cucumber Riata and Spiced Peanut Sauce.
TOMATO, MOZZARELLA AND BASIL SALAD
with dressed Arugula Leaves, Shaved Parmesan and Pesto Olive Oil
CARPACCIO OF FRESH PINEAPPLE
with Peach Salsa and a Coconut and Malibu Rum Dressing
PENNE PASTA
tossed in a Saffron and Basil Cream Sauce with Strips of Smoked Salmon, Sundried Tomatoes and Mushrooms.

SOUPS
SILKY BUTTERNUT SQUASH SOUP WITH A GOAT CHEESE CROSTINI
BAKED FRENCH ONION SOUP GRATINEE
CHILLED CARROT WITH MANGO

PINK GRAPEFRUIT SORBET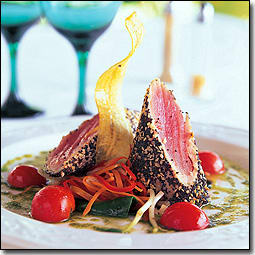 MAIN COURSES
GRILLED FILLET OF FRESH SALMON
served on Pumpkin and Pancetta Risotto with Daikon and Red Onions, Mustard and Herb oil
SAUTEED CARIBBEAN JUMBO PRAWNS
with Crushed Buttered Green Peas, Banana Chutney and a Frothy Curry and Lemon Grass Sauce
POT ROASTED BREAST OF CHICKEN
with Confi New Potatoes, Sundried Tomatoes and Artichoke Heart on Thyme Flavoured Jus
PAN FRIED ESCALOPE OF VEAL
topped with Sauteed Mushrooms and Emmenthal Cheese, served on a Crispy Potato Rosti with Marsala Jus
BRAISE LAMB SHANKS
in a Fragrant Rosemary Jus, served with Creamy Mashed Potatoes, Baby Vegetables and Crispy Fried Leeks
TOURNEDOS OF BEEF
with Grilled Polenta, Salsa Verde, Candied Shallots and Red Wine Jus


MIXED GARDEN SALAD
SELECTION OF FRESH MARKET VEGETABLES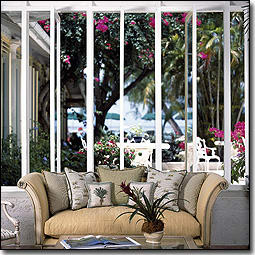 ENTERTAINMENT
We offer live entertainment every evening during the winter and 3-4 evenings per week during the summer. We have a weekly cocktail party hosted at the O'Hara family home every Monday night, followed by a sumptuous buffet. On Thursday nights we have a barbecue followed by a floorshow featuring limbo and fire eating.
The dress code is elegantly informal year round. On Christmas night and New Year's Eve, Black Tie or Jacket and Tie are requested. No shorts, jeans or T-shirts are allowed in the restaurant in the evening.
|| Our Rooms || Luxury Plantation Suites ||
|| Get married at Coral Reef Club || Children Facilities
|| Our Restaurant ||