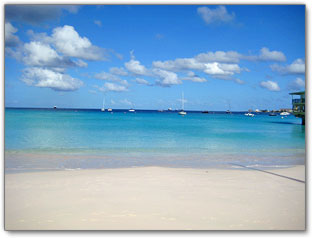 he lovely
Pebbles Beach
in Barbados is situated in a small bay in the
Carlisle Bay area
, and is part of
Needhams Point
, as well as the
Garrison Historic area
.
At this popular beach you will find a white sandy bay with aquamarine crystal clear waters and lots of marine life.
The sea conditions at Pebbles beach are calm with small waves and little to no undertow. It is also known for the occasional sea-turtle sightings.
The shore here is home to many turtle nestings, so if you should see any eggs or baby turtles, please do not hurt them. (
If you should see any exposed eggs call Barbados Sea Turtle Project
(246) 230 0142
)
Some watersports activity is available at Pebbles Beach. There are also facilities, a kids play area, a picnic area and a little beach bar.
This beach sits between two hotel resorts, at the north end is Grand Barbados Beach Resort, and to the south is Hilton Barbados. Both these properties have restaurants and bars on location, and offer spa services.
Pebbles Beach can be found on the Caribbean Sea side of the island, on the
South-west Coast
of Barbados in the parish of St Michael.
CAUTION
- DO NOT TOUCH the Manchineel Tree or its Fruits. (POISONOUS - Causes BLISTERS)
- DO NOT STAND UNDER the Manchineel Tree when it's raining. (liquid from tree may cause BLISTERING)
(The tree has green shiny leaves - The fruit is small apple–shaped – The tree is usually marked by red bands)
- Where there are water-sport activities persons should be cautious when entering outside the area marked with orange coloured buoys
Public Access to beach
:
Vehicular and pedestrian access with signage

Crowd during the week
:
Usually small to medium (
medium on evenings with local joggers, walkers and paddle ball players
)

Crowd on weekends
:
Large but not overcrowded



Other Southwest Coast Beaches close by

Located to the north is
Brownes Beach
To the south is
Needham's Point / Hilton Beach
More South Coast Beaches in Barbados...
For other Places of Interest on the Southwest Coast
Click here...
Useful Links
Things to do & see in Barbados
Nightlife in Barbados
Barbados Car Rentals
Barbados Island Tours

Note: Seasonal weather can cause a change in conditions
________________________________________________________

BEACH ACTIVITIES & WATERSPORTS:
Snorkeling / Swimming / Scuba Diving / Beach Paddle Tennis / Jet Skiing / Walking / Jogging / Sun Tanning & more...
Watersports in Barbados
(Inquire at Lifeguard Station for watersports activities)

AMENITIES
| | | | | | | |
| --- | --- | --- | --- | --- | --- | --- |
| Lifeguard | Facilities | Beach Rentals | Vendors | Benches | Play Park | Parking |
| Yes | Yes | N/A | N/A | Yes | Yes | Yes |
Facilities usually includes: Showers / Toilets / Changing areas


| | | | | | |
| --- | --- | --- | --- | --- | --- |
| Wheelchair Access | Phone Booth | Rangers | Picnic Tables | Hair Braiding | Shaded Areas |
| N/A | Yes | Yes | Yes | N/A | Yes |
____________________________________________________