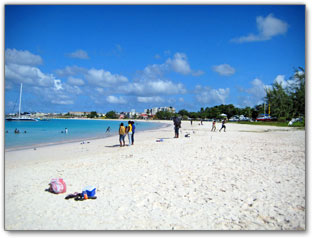 n Barbados the
CARLISLE BAY AREA
is considered the most important bay, due to its rich historic value
, its reef and the many wrecks.
Not only is it one of the most picturesque areas on the island, it is also home to a Marine Park and (4) beaches inclusive of Needham's Point, Pebbles Beach, Browne's Beach, Adventure Beach and Daiquiri Beach.


Carlisle
Bay is a nice tranquil beach located just on the outskirts of Bridgetown, where the focal point is the bobbing boats moored in the bay. It is a vast area of mostly placid and clear waters with no undertow, and is excellent for photos, snorkeling and Scuba diving, while boasting the most visited dive sites in Barbados.


The historic Carlisle Bay has (6) dive sites which include wrecks
sunk from 1917 to 1996, as well as lots of old anchors and cannons located on the sea floor. The sites are fairly shallow and
can be done on one dive,
making it perfect for beginners, but with enough interest for the experience diver.

In this area you will also find lots of sea life, including a variety of plant life and tropical fish with some rare species.


Some of the marine life found in the Carlisle Bay Marine Park, are
Schooling fish,
sea horses, frog fish, bat fish, eels and groupers to name a few.


History of Carlisle Bay

This historic bay was named after the title 'Earl of Carlisle', who at that time was James Hay. He was a Lord Proprietor of the British West Indies colonies which included Barbados.


Carlisle Bay was once a port for large ships which could not fit the Careenage Harbour, in the capital Bridgetown. Many famous British Admirals ventured here such as Admiral Nelson and General Ayscue, who during the English Civil War barred ships coming to Barbados in order to starve the colonist into submission to Cromwell's Commonwealth.
James Hay the Earl of Carlisle was the original owner of the land in this area, but due to his overwhelming depts in England, was forced to trade 10,000 acres of land in Barbados to merchants in England, as settlement of his debts.
These merchants formed the 'Rawdon Syndicate' and sent out the second group of settlers led by Charles Wolverston to the island, each given a grant of 100 acres of land with an additional 100 acres put aside for general use.
1628 was when the (64) settlers arrived at what was then the Indian River Bridge. They now owned the richest soil on the island, which stretched from Bridgetown all the way to St George. The area was then called Bridgetown and the bay was named Carlisle Bay, while the Indian River was renamed the Constitution River.

Charles Fort was built to protect the Carlisle Bay Harbour. This port was very important, as it received slaves from Africa and provided an exchange of precious local commodities, such as tobacco and sugar, for the materials required to develop this strategically located island.

Barbados became the hub of the eastern Caribbean and a major transhipment port, while anchoring the British Mercantile system triangle in North America, along with London and Boston during the 17th and 18th century.

CARLISLE BAY WRECKS
§ Berwind: A 60ft French Tug boat sank in 1916 in 20ft of water.
§ Ce.Trek: An abandoned boat sunk in 1986 in 40ft of water.
§ Wolf / Cornwallis: A freighter sunk by a torpedo during World War II and later relocated to this area because of anchor damage in 15ft of water.
§ Bajan Queen: This boat was barbados' first Tug boat and was later transformed into a 'Party Cruise boat'. It was sunk in 2002 in 40ft of water.
§ Eillion: An 110ft freighter (drug running vessel), the largest of these wrecks and a former drug boat was sunk in 1996 in 50ft of water.
§ Barge: A naval landing barge sunk in 10ft of water.

Carlisle Bay is located on the Caribbean Sea side of the island on the South-west Coast of Barbados in the parish of St Michael.

CAUTION
- DO NOT TOUCH the Manchineel Tree or its Fruits. (POISONOUS - Causes BLISTERS)
- DO NOT STAND UNDER the Manchineel Tree when it's raining. (liquid from tree may cause BLISTERING)
(The tree has green shiny leaves - The fruit is small apple–shaped – The tree is marked by red bands)
- Where there is wateresports activities persons should be cautious when entering outside the area marked with orange coloured buoys


Public Access to beach
Vehicular and pedestrian access

Crowd during the week:
Usually small to medium – medium on evenings with local joggers, walkers and paddle ball players.

Crowd on weekends:
Large but not overcrowded


Other Southwest coast Beaches closeby
Further south is Graves End Beach and Drill Hall Beach


More South Coast Beaches in Barbados...

See other Places of Interest on the Southwest Coast...


Note: Seasonal weather can cause a change in conditions
________________________________________________________

BEACH ACTIVITIES & WATERSPORTS:
Snorkeling / Swimming / Scuba Diving / Beach Paddle Tennis / Jet Skiing / Kayaking / Banana Boat rides / Walking / Jogging / Sun Tanning & lots more
Watersports in Barbados
(Inquire at Lifeguard Station for watersports activities)

AMENITIES

| | | | | | | |
| --- | --- | --- | --- | --- | --- | --- |
| Lifeguard | Facilities | Beach Rentals | Vendors | Benches | Play Park | Parking |
| Yes | Yes | Yes | Yes | Yes | N/A | Yes |
Facilities usually includes: Showers / Toilets / Changing areas


| | | | | | |
| --- | --- | --- | --- | --- | --- |
| Wheelchair Access | Phone Booth | Rangers | Picnic Tables | Hair Braiding | Shaded Areas |
| Yes | Yes | Yes | Yes | N/A | Yes |
____________________________________________________


The Historic Carlisle Bay is the official bay of Historic Bridgetown & its Garrison
…A UNESCO World Heritage Site
Click here for Tours of Bridgetown & its Garrison...

Check out other Things to Do & See in the Carlisle Bay area...

Remember to visit some of the other attractions and Nightlife around the island via a Rent-a-car, or get to know the rest of Barbados on a guided island tour.